Baby Jewelry Pearl for Ages 0-24 Months
This baby jewelry pearl set is just right for your little princess.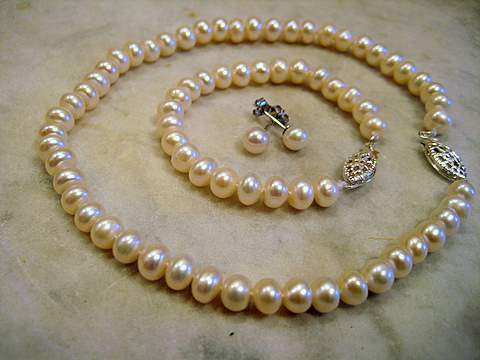 Baby Pearl Set
I'm crazy about babies. Several of my young family friends are having babies now and I love it! It's so great to have these new little people around. And after all, I've had seven, yes, seven babies of my own. Although one could hardly call them babies anymore.
This keepsake baby jewelry pearl set will remind your little one of your love for her in the years to come and make her look like a little princess right now.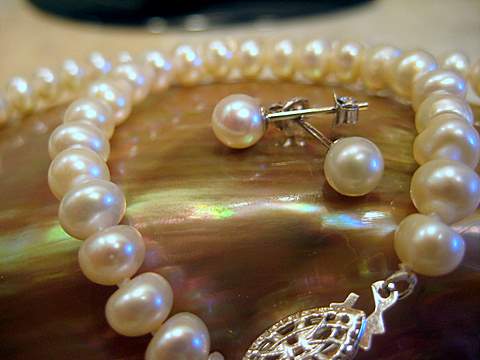 Baby Jewelry Pearl Set Closeup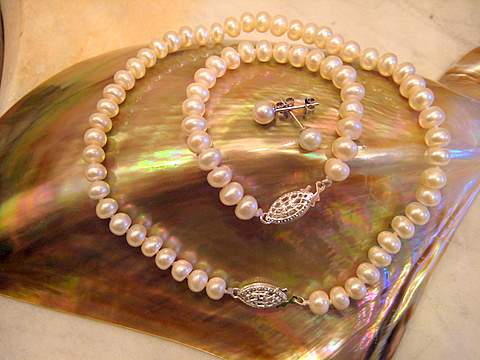 Baby Jewelry Pearl Set
Facts about baby jewelry pearl:
Pearl type: Freshwater cultured
Size: 6-6.5mm
Color: White
Shape: Button
Luster: Good
Surface: Good
Matching: Good
Length: 5" bracelet 10" necklace
Clasps: Sterling silver
Sorry, baby jewelry pearl is no longer available.
Testimonies
Dear Kari
I just wanted to let you know that my pearls are gorgeous!! I truly love them!! My friends are all jealous!
Thank you so much...you have a great holiday!!
Laura Day
Kari,
I have to commend you on your willingness to work with us!
I actually found myself smilling at your e-mail because of your kindness!
I am definitely going to tell anyone I know about how wonderful your pearl sale services are!
Lauren
Kari,
Thank you for my peach pearl necklace with two sizes of pearls that you knotted (beautifully!). The pearls are lovely and I've had lots of compliments on them. Wow. A personal note. I really like your site. Lots of information and great photos too. You seem like a generous person...............thank you.
Connie
Kari,
Thank you so much for the beautiful baby bracelets. The skeptic in me did was not sure what kind of bracelet I would get for a dollar but when I saw them I knew that it was worth far more than the dollar and I knew that even more when my 2 year old little girl opened the package and the first thing out of her mouth was "Beautiful"--- thank you so much for making my little girls day!
Nicki
I bought my wife your pink pearl set for Christmas, and she really enjoyed receiving the present. Thank you very much. I chose to buy from your site, because it seemed more personal somehow, than a typical jewelry site. I enjoyed reading the information you provided, and it bore out in a wonderful gift for my wife. Thanks again.
Mike
Hi Kari,
The necklace was beautiful and quite a hit for my sister-in-law. Thank you for sending it so quickly.Happy New Year.
Tamra
Hi Kari,
I bought some pearls from you a few months ago and I just wanted to tell you that I love them!! I never wear them without someone giving me a compliment!! I bought the little girl's braclet for my niece and she will not take it off!! They are truly gorgeous...your pictures do not do them justice!!
Laura
Hi Kari,
My black pearls arrived yesterday. Mondays are long for me, so I didn't get them until I arrived home at 10:00 PM. You said satisfaction guaranteed. I must admit I'm not satisfied. That's far too tame a word. I'm thrilled. The pearls are stunning. When I opened the silky bag and poured them into my hand, I think my heart actually skipped. I'm sure I gasped. The luster is exceptional. Blemishes moderate to light. Great color. I'd have to say I believe them to be better quality than described.
Jeannie Dees
Fayetteville, NC
Hello Kari,
I just wanted to say thank you for the necklace and earrings.
They are very beautiful and were greatly appreciated.
The design made the set breath taking.
You did very well.
Thank you once again.
Daniel from Florida
I found KariPearls when I was doing a project for my Language Arts class. My assignment was to find out how much the pearl in John Steinbeck's novel would sell for on the market today. Kari helped me by telling me the scale that pearls are graded on and showing me the world's largest Melo pearl (the size of a ping pong ball) and that the owner had rejected an offer of $7 million. Steinbeck's pearl on today's market would be almost priceless because of its size, lustre, shape, color and surface quality. Thank you so much for your help!!!
Jennifer
Go to main white pearl page after baby jewelry pearl.
Go to main child pearl jewelry page.