Baroque Pearls Necklace & Earrings
Smashing "fireball" baroque pearls in dramatic three tiered drops on 18K gold with handmade earrings hooks.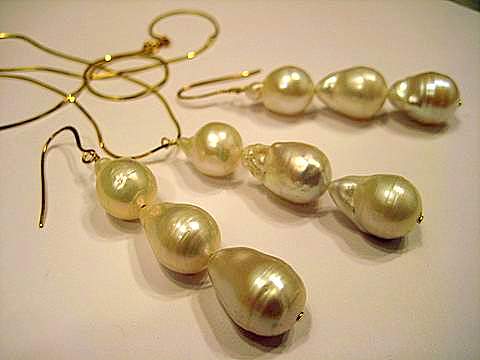 White Baroque Set on 18K Gold
These wonderful baroque gems were begging to be made into a three tiered necklace and earring set and on 18K gold they are sure "fireball" winners.
I bought these 18K gold chains in the gold souq in Dubai and I had the earring hooks and pins handmade by a Dubai goldsmith...just for you!
White Baroque Set on 18K Gold
Type: Cultured Freshwater
Shape: Baroque
Size: 13-16mm
Length Necklace: 16 3/4"
Metal: 18K Gold
Sorry, this style is no longer available.
Go to main white pearl page after baroque pearls.
Free Newsletter all about Pearls!
Search here.