Natural Big Pearl Photos
This natural big pearl is soooo gorgeous and I have ideas that would enhance this pearl and make it a fabulous collector's item. But, as you can see, it's already a collector's item without enhancements.
It is from a tridacna gigas or giant clam which is found in the South Seas.
Tridacna Gigas Pearl
What these pearls lack in luster, they make up for in size.
Those of you who have searched for and found my dragonfly photo know that I like those winged insects. Sometimes they die on our pond...so I pick them up and bring them home. Reminds me of my childhood 4-H entomology projects...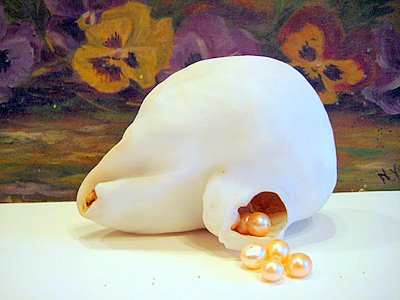 Natural Pearl
Cicadas are another favorite of mine. I love the fairy-like wings of these delicate creatures.
Natural Pearl
It's a wonder that a pearl could grow this big and this one is mostly hollow too. Doesn't that just take your imagination to new heights when thinking of what this could be enhanced to become?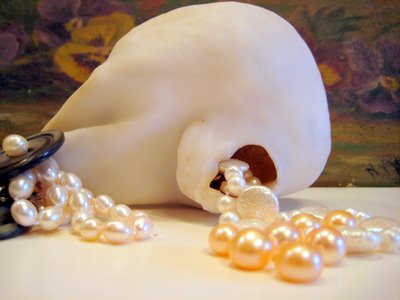 Natural Pearl
See more views of this pearl here. It's huge size shows well on a man's hand.
Natural Pearl
So, what else looks good with a large natural pearl? How about a primitive pansy oil painting, some dried magnolia petals, a piece of coral and some lustrous freshwater pearls?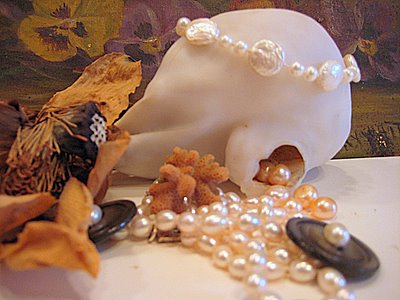 Natural Pearl
Oh, and throw in a few big black mother of pearl buttons made in Muscatine, Iowa, (where I live) back in the pearl button days of yester-years.
Natural Pearl
Cultured freshwater pearls spilling out from a natural pearl....perfect companions.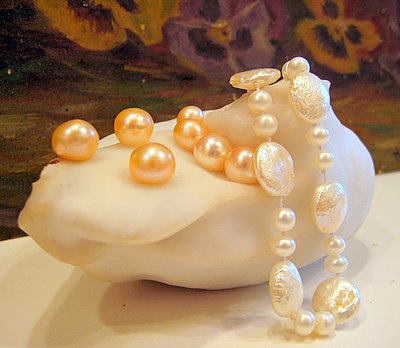 Natural Big Pearl
Cultured freshwater pearls on top of their large pearl buddy....friends for life.