Exotic Pearl that Fits into a Man's Hand
This exotic pearl is partly hollow...see lots of photos of this unusual pearl.

Ever dream of finding the "pearl of all pearls"? Well this may be it.
12 years ago a man was diving off the coast of Spratly Island off of Palawan Island in the Western side of the Philippines.
He was in forty feet of water when he saw a very large giant Tridacna Gigas clam that was closing up.
After notifying his friend they agreed to prop it open to get the meat from it before it closed completely.
Using bolos and machetes to retrieve the meat, this rare pearl was discovered inside the meat, with some of the meat actually inside of the openings in the pearl.
The meat was deep in the rare pearl causing it to be partially hollow.
It's partly hollow like a snail shell but with thicker walls making it heavy.
Something very lovely and creative could be made out of this rare exotic pearl....a real collector's item.
Pearls from the giant Tridacna Gigas clam are known for lightly patterned with greyish flames on their surfaces.
The most famous pearl from the giant Tridacna Gigas clam is the Pearl of Allah.
Here's another huge pearl, Pearl of Elias, from the giant clam.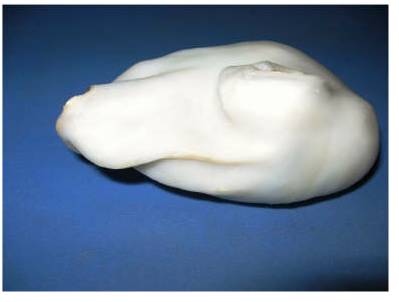 Rare Pearl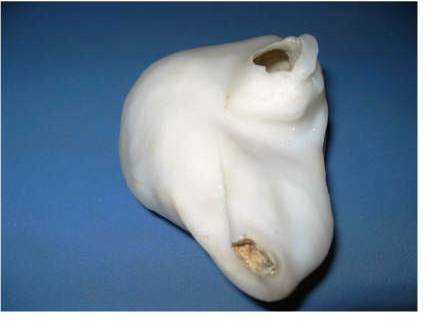 Rare Pearl Showing Two Openings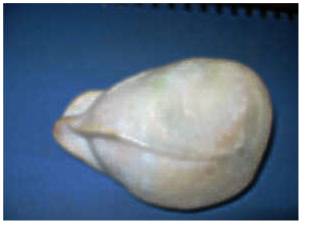 Rare Pearl from Top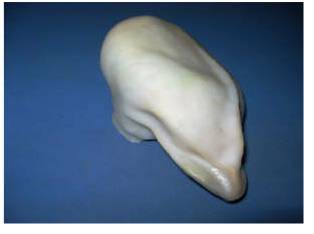 Rare Pearl Resembles a Dolphin's Head




Rare Pearl Fits into a Man's Hand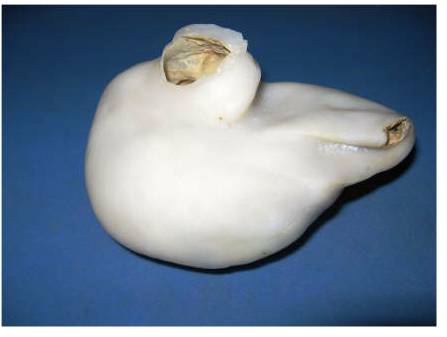 Partially Hollow Rare Pearl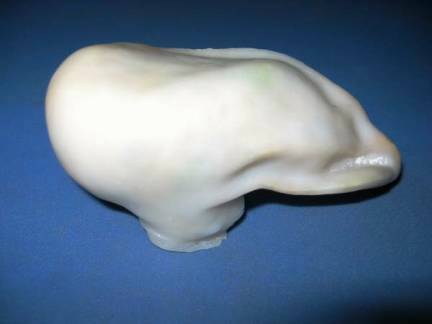 Rare Pearl Close Up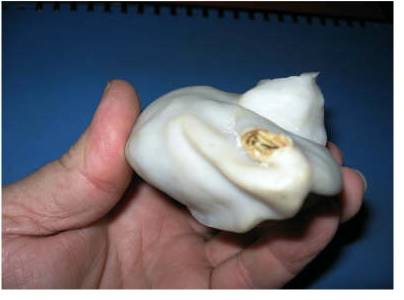 Rare Pearl Side View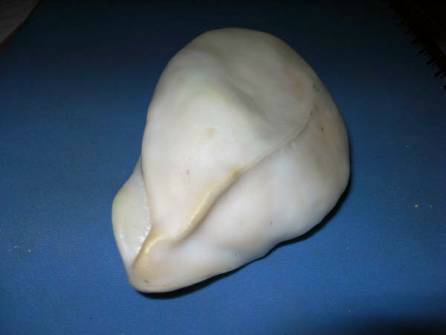 Rare Pearl Top View


See more photos of this big pearl here.
Sorry, this pearl is not available for sale.
Go to main Natural Pearl page after seeing this Exotic Pearl
Photos and Text © by www.karipearls.com