Wardrobe Necessity...a Black Necklace Pearl
Do you own a classic black necklace pearl yet?



Every woman and young lady needs a classic black pearl necklace in her arsenal of jewels...well, maybe jewelry boxes aren't exactly arsenals, but pearls can actually be a type of weapon that fights hard at low self-esteem and feelings of inadequacy.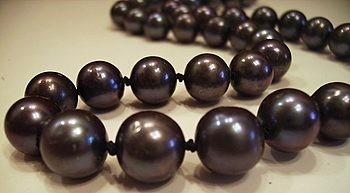 Black Freshwater Pearls
Try it sometime...wear pearls. It's amazing how much fun they are and self-esteem (which so many women struggle with) is actually boosted. I'd never heard this or read about it...but experienced it for myself first-hand.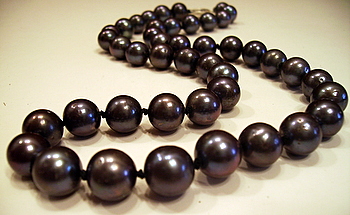 9mm Freshwater Black Pearl Necklace
This freshwater black pearl necklace would be a great place to start your pearl collection...well, arsenal that is.
These big, black, round freshwater pearls closely resemble expensive Tahitian pearls....be the envy of all your friends...they'll think you spent a mint on this necklace.
Sorry, this necklace is no longer available.
After Black Necklace Pearl go to main Black Pearl Page
Photos and Text © by www.karipearls.com