Budapest Bridge -- Liberty Bridge
The Liberty Bridge is, in my opinion, the most beautiful Budapest bridge. The intricate iron work is a beauty to behold.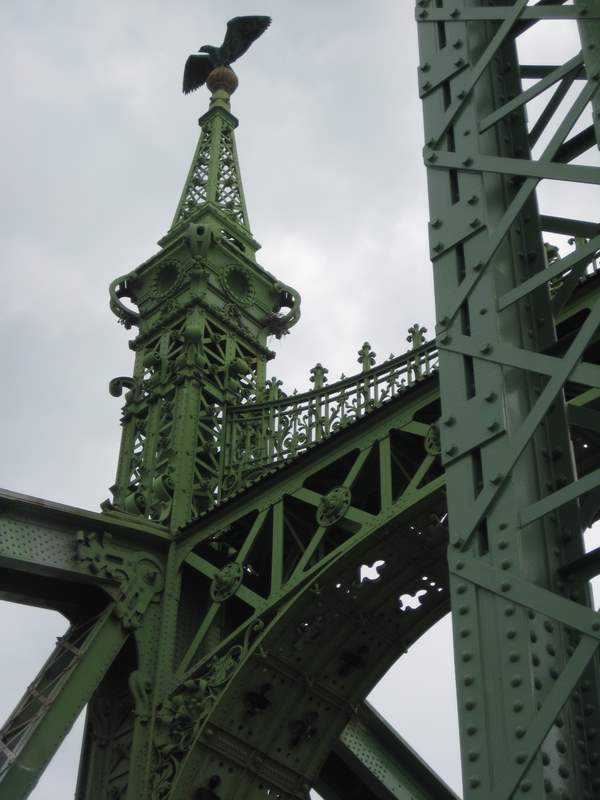 Budapest Bridge -- Liberty Bridge
It's unbelievably fun to walk around Budapest and so easy to go back and forth, back and forth between Buda and Pest on so many bridges.


This Liberty Bridge was by far my favorite bridge over the Danube River in Budapest.


It was built for the Millennium World Exhibition in 1896, and originally called the Francis Joseph Bridge.


I couldn't stop taking photos of this amazing piece of functional art work. You can see for yourself...it's gorgeous. And I happened to capture the furul, a type of falcon bird, which is naturally a symbol for liberty...so aptly a part of the Liberty Bridge.


When I travel, I walk and walk and walk. It's my favorite thing to do in a big foreign city. Put me in a big city with a camera and I'm happy. Usually when I come home, my blue jeans slip on easily as I often forget about eating while seeing amazing foreign places...I just walk and walk and walk. Pity the poor traveling partner I have who doesn't like to walk. But, my husband, Mark, is also a walker, so we thoroughly enjoyed our days in Budapest together.


Just take a close look at those endless details. Modern minimalism has it's place, yes, but give me the craftsmanship and care any day of things built at the turn of the century.


Last night our family watched a Judy Garland movie, "In the Good Old Summertime". It's a take on the "Shop Around the Corner" with James Stewart and "You've Got Mail". The Garland movie was set at the turn of the century and I LOVED the Victorian house and store settings....to me that time period is the ultimate in decorating loveliness. So, it's no wonder that our living room looks somewhat like an antique shop.


When in Budapest, you'll never tire of walking on the Budapest Bridge called Liberty....she's a beauty!


See where else I've traipsed off after Budapest Bridge.
Doors of Szentendre