Looking for a romantic coin freshwater pearl necklace and earring set?
Coin freshwater pearl necklace and earrings....you'll say, "Ahhhh....yes!"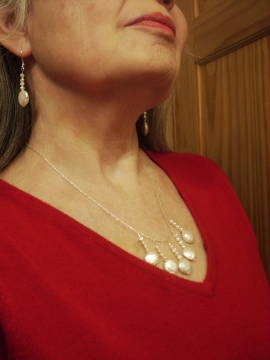 Ever found yourself looking in your jewelry box for something stunning, yet not overwhelming...just lovely and refreshing?
This may be it.
The eye-catching coin pearls give plenty of decoration...just enough pearl for the touch you're looking for.
Together with tiny flat backed seed pearls on a sterling silver chain this coin pearl necklace is the perfect compliment to open necklines or plain front tops.


Coin Pearl Necklace Details
Length: 18.5"--Great length
Color: White--Natural color
Size: 12mm and 3mm pearls--eye-catching size
Shape: Coin and flat back seed pearls--nice variety of shapes
Luster: Medium--lots of great shine
Clasp: Lobster--easy to use
Earrings: Matching Dangle--perfect companions
Sorry, this style is no longer available.

Go to main White Pearls after Coin Freshwater Pearl
Search here.
Photos and Text © by www.karipearls.com