What single factor can add $3,000 to the value of a cultured Mikimoto pearl necklace?
Find out what I learned about cultured Mikimoto pearl necklaces on a visit to the Roppongi Mikimoto store in Tokyo.

Mikimoto Roppongi Hills Store
Roppongi Keyakizaka Street
6-12-1 Roppongi, Minato
Tokyo 106-0032
Phone: (+81)03-5771-1161
If you're in Tokyo, the Mikimoto pearl Roppongi Hills Tokyo store can be reached on the Tokyo Kibiya subway line--Roppongi stop.
The Roppongi area, known for its night life, vibrates with Christmas music in mid November, neon falling stars, blue lighted trees, waterfalls, cinemas, museum (highlighting Da Vinci at the time of my visit), and would you believe, a 20 foot high metal spider complete with egg sac and eggs? "War of the Worlds" anyone? Oh, and you don't want to miss the "Yahoo!" billboard.
Also, if you're lucky, like I was, they'll be filming a live TV news broadcast and you might even get yourself on television.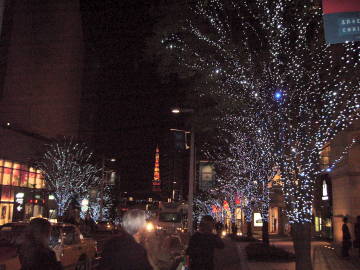 This utopian setting is home to a two year old cultured Mikimoto pearl store--just outside the main complex. This photo shows the street in front of Mikimoto all decked out for Christmas.
The Jazz music in this cultured Mikimoto Pearl Jewelry Roppongi Hills Tokyo store really gets one in the mood for buying. Mr. Ono, the gracious manager, showed me around the two story building which is decorated in black and burgandy with thick glass counters.


Boy, I sure appreciate a kind store manager. It makes shopping or researching so much more pleasurable.
Mr. Ono explained that black Tahitian pearl necklaces are currently the most popular items here. The best quality being the very round with deep luster. Also, the darker the color the higher the value.

For white pearls the 7-7.5mm size with pink overtones are the most sought after.
To illustrate the difference in luster, Mr. Ono showed me two nearly identical cultured Mikimoto pearl necklaces--but wait, how close are they really?
One is worth $3,000 while the other is $6,000. The difference is in the luster.
Yes, one obviously glistened more.
So one necklace was the "best," while the other with mirror-like luster was the "best of the best," ...one of Mikimoto's trademake phrases.
One-of-a-kind pieces sold only at the Mikimoto pearls Roppongi Hills Tokyo store include a delicate angel pin, angle pendant necklace and a double circle pendant necklace.
The wire circles around twice non-stop to give the apprearace of a double circle. Kim, a Korean American is the designer.
Along the stairs going to the second floor are small framed photos including Kokichi Mikimoto lieing on his back juggling an umbrella, his house, first store in Ginza, 1906 (the main Mikimoto store is now in Ginza, Tokyo), antique ads, a Mikimoto pearl factory and a designer's illustration of a tiara.
Mr. Ono informed me that Mikimoto always hired designers rather than design jewelry himself.
On the second floor are Japanese pearls as well as diamond jewelry.
Here's an outside view of the two stories that showcase cultured Mikimoto pearl necklaces.
Return here to main Mikimoto store page after reading about the cultured Mikimoto pearl Roppongi Hills store.
Search here.
Photos and Text copyrighted by www.karipearls.com