Mikimoto Pearl Main Store Ginza Tokyo Join Me for a Visit
See More of my Store Reviews at Bottom of Page

Mikimoto Pearl Main Store Ginza Tokyo
4-5-5 Ginza
Chu-Ku Tokyo 104-8145
Japan
phone: (+81) 03-3535-4611
Getting There
The Mikimoto Pearl main store Ginza Tokyo can be reached on the Hibiya subway line in Tokyo.
Another Mikimoto store in Tokyo in the Roppongi area can also be reached from the Hibiya line, while a third store at the Imperial Hotel is only a simple change and one stop away on the Mita line.
Tokyo's amazing subway system can take you anywhere in the vast city and if you don't speak Japanese, there's always a helpful person willing to help with buying tickets or giving directions. The ticket machines, however, have an English option, making them easy to figure out.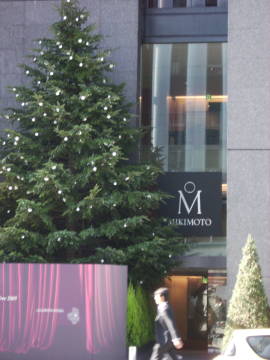 Ginza Area
The Ginza area, where Mikimoto's first store began and now the location of the Mikimoto pearl main store Ginza Tokyo, is comparable to New York City's Fifth Avenue, with stylish people dressed in fur capes and designer clothing filling the busy sidewalks.
Christmas starts early in Japan, so in mid November outside the Mikimoto Pearl main store Ginza Tokyo stood a 30' decorated Christmas tree.
Bright music from next door added to the festive atmosphere.
The front window at the Mikimoto pearl main store Ginza Tokyo held a magical Christmas scene behind opening and closing curtains.



Upon entering the Mikimoto Pearl main store Ginza Tokyo I was fortunate enough to speak first with the store manager, Mr. Hiroaki Takano.
Even though Mr. Hiroaki Takano obviously is a very busy man, he laid down his clipboard and graciously gave me his full attention as I introduced myself.
I gave Mr. Takano a card for my website telling him how greatly I admired Kokichi Mikimoto and enjoyed writing about him on my site.
I also told him I had visited Mikimoto Pearl Island at Toba, Japan.
An assistant at the Mikimoto Pearl main store Ginza Tokyo immediately went to a laptop computer and looked up my site.
They expressed their pleasure by bowing and smiling, Japanese style, with thanks, to see pages about their founder and the address of their store listed.
Since Mikimoto is searched for with several misspellings I explained the reason for my also using a misspelling of his name on some of my pages.
A fellow American (I overheard him talking when he first entered) wore a shocked expression because of the warm reception I was receiving from the Mikimoto Pearl main store Ginza Tokyo manager. Exceptional treatment...the Ginza Store trademark. Here, the manager showed me so much favor...I was overwhelmed.
The Japanese people have wonderful ways of showing honor.
We can learn much from them.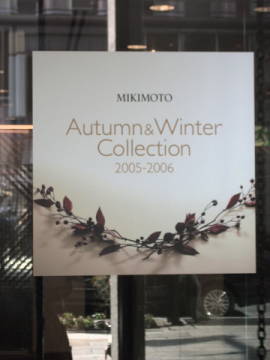 Five floors at Mikimoto Pearl Main Store Ginza Tokyo
One of the floors is for special exhibitions.
The Christmas exhibit for 2005 was opening the following day. Unfortunately, I was leaving Tokyo that day, so couldn't stay to view it.
This is a special display for some days and then the new pieces in the Christmas collection are distributed throughout the store.
Rena Sugimoto, a helpful clerk, gave me a catalog of this new collection, however, and I was pleased to see several Christian motifs for this Christian holiday celebrating the birth of Jesus used, such as, crosses and crowns of thorns.


Designer Collections
Another of the upper floors is for exquisite designer pieces priced at $10,000 and up. After this was explained to me, I said, "So, this is where the movie stars come...and one lady from Iowa?"
The clerk laughed and said, "Oh, a few, a few."
This designer floor included the Wellendorff collection with designs exclusively for Mikimoto.
Giovanna Broggia's pieces included a black pearl studded with diamonds and a large gold chain and pearl necklace. Her photograph was displayed next to her collection.
One necklace that caught my eye contained pearls resembling large acorns set in gold. Another was a $168,000 gold, emerald and pearl necklace and a stunning large pearl drop on a filigree chain for about $140,000.
Of the several brooches I especially noticed a peacock pin and a rabbit of baroque pearl pin.
Several other precious gem jewelry pieces such as tanzanite and alexandrite, diamonds and turquoise may be purchased on this floor.
It was explained to me here that a relative through marriage to Mikimoto now sits as the Chairman of the main Mikimoto board.
On this floor I happened to spot the lavatory for ladies, so took the opportunity to visit it.
What a pleasant surprise!
The padded walls, real cloth towels, vanity and mirror door made my feel like a queen.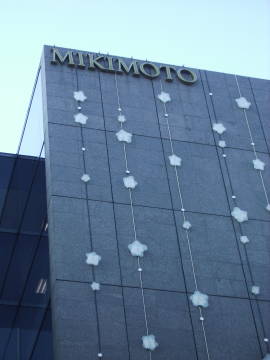 "My Original" necklaces
The third floor is where to go to chose your own clasp, length, style, size and color of pearls for "My Original" necklaces.
Consultants are available to assist you in the decision making process and also to create your custom necklace.
Several styles are available to choose from.
Debutant necklaces and mother and baby sets can be purchased here as well.


On the second floor in addition to enjoying the lovely jewelry it was explained to me about the little pink camel with a pearl around his neck that I was seeing in every Mikimoto store.
He is a symbol for a recent collection called, "Oasis--Over the Silk Road."
One of the clerks at the Mikimoto Pearl main store Ginza Tokyo, Japan, told me about the Mikimoto Boutique down the street that carried all the Mikimoto International items.
She kindly gave me a small ready-made map to guide me on my way. That became my next stop in Ginza.

Mikimoto in Wafi Center, Dubai, UAE
Mikimoto Pearls in Los Angeles, California
Mikimoto Ginza 2 New Pink International Boutique in Tokyo
Main Store Ginza in Summertime
At Belfast, North Ireland I enjoyed viewing a tray of Mikimoto Pearl Earrings
Compare Value of Mikimoto Pearls at Dublin, Ireland
Mikimoto Pearl Shop London, England...Sit back, Relax and Let me Take you to Mikimoto on New Bond Street in London
Can't Go to Paris this Week...no worries...Read about the Mikimoto Pearl Store Paris, France
Click here to read about my visit to Mikimoto International Boutique after finishing this page about Mikimoto Pearl Main Store Ginza Tokyo, Japan.
Visit the Mikimoto Store at the Imperial Hotel Arcade in Tokyo with me.
What single factor can add $3,000 to a necklace? Find out on the Roppongi Tokyo Store page. Here's my page about Mikimoto plus my visit to the New York City Mikimoto Store.
Learn about Mikimoto pearl bridal tiaras at Mikimoto Jamsil Store in Seoul, Korea
Find out the cost of Mikimoto pearls at the Galleria Department Store/East in Seoul, Korea
My visit to a Mikimoto Necklace store in Glasgow, Scotland.
Come along with me to the Mikimoto store at Landmark Plaza in Yokohama, Japan.
Which jewels should never be worn to a Japanese funeral? Find out here at the Motomachi Mikimoto store in Yokohama.
View a gorgeous Mikimoto pearl necklace from the window at the Nagoya Mikimoto Pearl store.
Here I was tempted to buy...on the 9th floor Mikimoto store at Hankyu Department store in Osaka, Japan.
Visit an International Mikimoto also in the Hankyu Department store in Osaka.
Even the carpet says Mikimoto at Shinsaibashi, Osaka, Japan.
Here's another place to buy Mikimoto pearls in Osaka, Japan.
World Wide Mikimoto Store Locations