Mikimoto Cultured Pearls Price from Landmark Plaza, Yokohama, Japan
Mikimoto cultured pearls price -- From the window display photos on this page you can see the prices, however, prices on these photos are in Japanese Yen. For a quick approximation in USD (US dollars) take off the last two digits.


Mikimoto Yokohama Landmark Store
Landmark Plaza, 1st Floor
2-2-1-2 Minatomirai, Nishi-ku
Yokohama, Kanagawa 220-8172
Phone: (+81) 045-222-5155
The Landmark Plaza 21 is just that--a landmark for the 21st century.
Next to the train station is a vast open plaza and one just needs to follow the streaming masses of people towards the wide escalators.
After the escalators moving walkways usher one along toward an unforgettable shopping experience in the Landmark Plaza 21 complex.
As one rolls along the walkways, to the right can be seen this multi-masted ancient sailing vessel with futuristic skyscrapers in the background, plus a gigantic ferris wheel--like a crazy mix of enticing adventures.
Too bad we didn't have more time in Yokohama.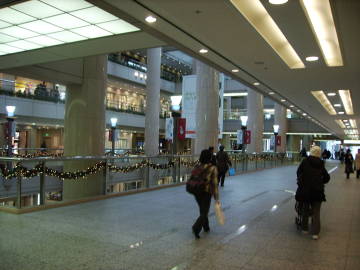 Inside the Landmark Plaza itself, next to a Beatles store (I enjoyed the melodic music wafting from here as a reminder of seeing the Beatles in person 40 years ago at Met stadium in Minneapolis.) sits a very decorated-for-Christmas Mikimoto pearls Landmark Yokohama store.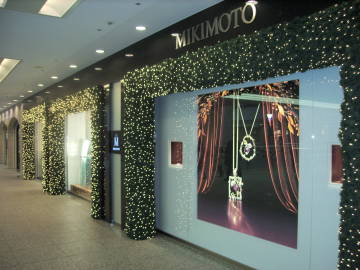 I arrived at 10:50, ten minutes before opening, so studied the Christmas collection on display and the Mikimoto cultured pearls price.


As I was looking into the Mikimoto cultured pearls price in the store window, a little Japanese lady (the average woman in Japan is about the size of my petite fourteen year old) came up beside me, looked at me, pointed to the new purple winter collection necklace, and smiled, while shaking her head and chattering in Japanese.
I assumed she was saying,"So beautiful, so expensive."
I nodded and smiled in agreement. The prices in the windows ranged from &yen39,900 to &yen472,000.
We women are like that--we understand in any language when it comes to beautiful jewelry.
Although this store was decorated nicely with white wood, large winter bouquets, burgundy colors and thick glass counters, it lacked the gracious Japanese hospitality of other Mikimoto stores which I visited in Asia.


I did appreciate a friendly sales girl, however, and talked with her about a lovely large white graduated baroque South Sea neckace and a longer white multi-sized pearl necklace.
I also enjoyed seeing Mikimoto jewelry with very tiny inlaid pieces of gold into mother of pearl at this store. Very fine, detailed work.

I hope you've enjoyed seeing the Mikimoto Landmark Plaza store in Yokohama, Japan.
For more Mikimoto Cultured Pearls Price estimates read about my visits to other Mikimoto stores by clicking here.