Looking for a Mikimoto Pearl for Sale?
Mikimoto pearl for sale shop....join me on a visit to the Imperial Hotel in Tokyo, Japan.

Imperial Hotel Store
Imperial Hotel Arcade
1-1-1 Uchisaiwaicho
Chiyoda-Ku, Tokyo 100-0011
Phone: (+81) 03-3591-5001

Mikimoto Imperial Hotel
photo by Kari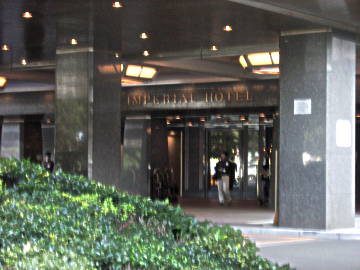 Mikimoto at Imperial Hotel photo by Kari
It took me a little longer to find this Mikimoto pearl for sale shop at the Imperial Hotel in Tokyo. Not because it's small and hidden, it's huge, but the locals I asked didn't seem familiar with it.
Only after I asked in a shoe store and the salesman copied off a Yahoo map for me was I able to locate it.
Then as the Mikimoto shop in the Imperial hotel was closed for the night when I finally found it, I returned the next morning to pay my visit. All this coming and going familiarized me with the Tokyo subway system which is really fascinating.
This exclusive hotel is vast and upscale. Outside you'll see chauffeurs waiting (sometimes asleep) in luxury cars and a posting for the local Ferrari club on the events board inside the door.
It had the biggest lobby I've ever seen in my life....soccer anyone?
The boutique area wasn't visible and after a clerk noticed me poking around, he approached and offered his assistance.
The Mikimoto pearl for sale store is located on the lower level with other top-of-the-line shops.
Giving me a map, yes, a map of the shops, he informed me that they were all closed for the evening, so I thanked him and returned the next morning.


Back at the Imperial Hotel, I found the Mikimoto pearl for sale store quickly as it occupies a prominent corner store in the basement arcade.
This very open space provides two entrances and big windows.
Ayako Uchida, a young saleslady, who has worked there for two years, welcomed me and voluntarily drew a map for me to the Ginza store and also found some English brochures for me.
The Mikimoto pearl for sale store includes both jewelry with lots of brooches, pendants, and necklaces, plus Mikimoto International items.
Business people staying at the hotel pick up a Mikimoto pearl for sale and other gifts for family members and couples preparing a wedding ceremony buy small Mikimoto International gifts in goups of hundreds to present to their invited wedding guests.
Popular gifts for wedding guests are letter openers, small trays, cell phone cords. Most, but not all, of these gifts contain a small akoya pearl.
"Wow", I thought, "it would be nice to be invited to one of these weddings."

Various watches containing tiny boxes of Mikimoto loose pearls may be purchased here.
A pink freshwater pearl golden frog caught my eye as well as very small double Mikimoto pearl choker necklaces.
"For children?" I asked.
"No, for adults." Ayako Uchida replied.
I was totally surprised. These were very small necklaces. They would be way too small for most American women. But then I remembered the average Japanese women I'd seen were the size of my petite 13-year-old.
Almost each store has a baroque necklace and this Mikimoto pearl for sale store was no exception with a lovely black baroque style for sale.
Here, for the first time I saw the intricate gold shapes embedded into mother of pearl heart shaped pendants.
So I said good bye to Ayako Uchida and left armed with a map to the main Mikimoto pearl for sale store in the Ginza area.
Leaving the Imperial Hotel I noticed a large notice board in the entryway that there would be limited access to the hotel in a few days. So, I wondered, what important figure would need this high level of security? I didn't find out, but President and Mrs. Bush were expected in Japan at that time and this was that sort of executive place...so it wouldn't surprise me if they or some of their group stayed there.
Go here to the main list of stores after reading about this Mikimoto pearl for sale store.