View a Mikimoto Pearl Ring at Paris Mikimoto
Looking for a Mikimoto Pearl Ring? There are several choices at the Mikimoto shop in Paris.

Find a Mikimoto pearl ring at the Paris shop.

Mikimoto Paris, France
8 Place Vendome
75001 Paris
Phone: (+33) 01-42-60-33-55

View from Mikimoto to Place Vendome Plaza photo by Kari


Funny, although I haven't visited all of the Mikimoto stores in the states yet, I've made it to the shop in Paris....and London.
A cold was hanging heavy in my lungs the day I trudged around Paris, trying to find the Mikimoto Shop. Tired and weak, it was an effort, but one I knew would be worth it. Mikimoto Paris where you can find a Mikimoto pearl ring, is not far from the Louvre Museum in the gorgeous Place Vendome plaza.

Mikimoto Store Paris photo by Kari
Now, here there was a door bell...the first Mikimoto store I've visited that had a bell. But having just been in Dublin, I began to grow used to ringing bells at exclusive jewelry stores.
Jouliana welcomed me by opening the door and wore a rather blank expression as I explained my mission of visiting Mikimoto stores.
She wore a lovely black Mikimoto Tahitian drop necklace. How did I know it was Mikimoto? Well...there's nothing like just plain asking. At Shelfridges (an upper scale department store in London) they allow employees to wear the store's jewelry while at work. I wondered if Mikimoto Paris maybe had the same policy, but no, Jouliana had purchased this lovely necklace for herself. My research of Mikimoto stores requires asking such questions.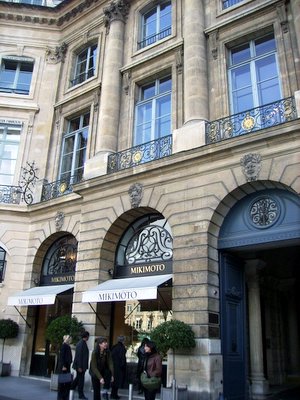 Mikimoto Paris Shop Photo by Kari
Jouliana graciously found me a small booklet in English about Mikimoto the Pearl King and a product brochure. Her reaction to my visit was typical in this regard. I graciously received them, but also like to find out something in particular about each individual store. My not feeling well limited my ambition for searching out specifics.
I requested to look around the store at the various displays. Permission granted, but I didn't get far. First I spotted a glorious 5' bouquet of large red lilies with greenery in a cylinder vase on the floor. I studied these flowers which were so large and perfect I wondered if they were real. Fallen pollen gave away their naturalness, but I still questioned Juliana if they were real. "Naturally," she said. They were so beautiful.

Mikimoto Storefront Paris photo by Kari
I asked Jouliana if someone requested a special necklace, say a three strand necklace, would they make it? "Yes," she said, but added that the single strand of pearls is the most common purchase.
One could pick a lovely golden south sea Mikimoto pearl ring. Several were on display in the outside window.
I enjoyed quickly looking at each display window in the asymmetrical curved room, noticing in one case the popular Mikimoto pen and lipstick brush. These were the only international items I noticed. Several people have asked me about purchasing Mikimoto pens.
After saying hello to another employee, thanking Jouliana, and asking for a card, I departed.
Go to main Mikimoto Store page after Mikimoto Pearl Ring Paris page.