Mikimoto International Pearl Boutique Ginza Tokyo


Mikimoto International Pearl Boutique Ginza Tokyo
In the Ginza area in Tokyo, Japan, only a few blocks from the Mikimoto main store was a two story Mikimoto International Pearl Boutique Ginza Tokyo.
The store I visited has now moved across the street to a new location nearby.
This store carries the entire line of Mikimoto International which includes numerous, colorful and varied gift items from clocks to jewelry boxes to pens to well....
Mikimoto champagne--can you believe it?
For the 100th year anniversary of Mikimoto in 1993, they started selling this label of champagne.
Four companies are under Mikimoto in Japan including Perlita, a lower priced pearl jewelry line with innovative interchangeable designs.
In the Perlita section are fascinating pendants consisting of a small pearl inside a tiny glass globe.
Although I'd read about these little globes, I'd never seen them before.
Downstairs many newborn baby items are available for the lucky babies who receive these silver spoons, silver rattles, shoes, baby books and many other great ideas for new person.
My thought about these exquisite gifts was that these are the quality things that end up in museums years from now, as I recall a silver rattle in our local museum here in Muscatine, Iowa.
Also in the lower level of the Mikimoto International Pearl Boutique Ginza Tokyo are a gift wrapping section, cosmetic area and a display for Bridal tiaras and necklace sets which are not for sale, but rather for rent.



A sweet girl at the cosmetic area demonstrated face foundation on her hand for me and said many of the products contain pearl powder.
If I had just three minutes time, she could give me some cosmetic samples.
Yes...for Mikimoto samples, I had time.
She only asked me to write down my name, address, phone and email and gave me a small white organza drawstring bag with two samples, one of MoonPearl moisturizing lotion, and one of MoonPearl recover essence.
A brochure of their beauty plan and list of other products was also included.
Wow, samples from Mikimoto International Boutique Ginza Tokyo. I didn't expect them.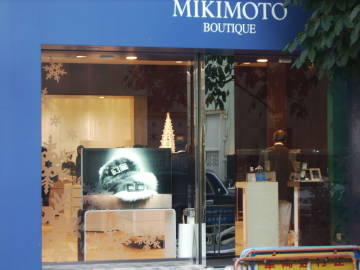 Mikimoto International Pearl Boutique Ginza Tokyo

The bridal section was complete with several pearl tiaras, earrings, and necklaces for rent.
Prices ranged from a few hundred dollars to into the thousands.
It's common in Japan for brides to also rent a wedding dress for the day. (On the radio, I heard about a Japanese wedding dress with platinum woven into the fabric--it was very expensive, even to rent). A western American church wedding is also very popular.
Some pastor friends of ours living in Japan often perform weddings like these.
Near our hotel in Osaka was a "Royal Garden," wedding church and reception area. It looked like a beautiful country church with a garden in front. I stopped over there on Sunday morning, hoping there'd be a church service, but a wedding was about to happen.

If you are wanting to rent a tiara, buy a quality gift item for either men or women, newlyweds, or newborns...this is the place.
Also, if you want to see the entire collection of Mikimoto International items, the Mikimoto International Pearl Boutique Ginza Tokyo will be for you.
Well....I really missed it this time! The employees here told me they were soon moving to a new store not far away, but did I take the time to go and see that new store? No. What a mistake!
I was given a second chance a couple of years later....so finally did see Mikimoto Ginza 2.
And to think I could have actually laid eyes on this amazing modern art sculpture...well, building, that is.
Designed by the famed architect, Toyo Ito, to capture the mystery of a jewel box with interiors by Ichiro Nishiwaki, this is a must see if in Ginza...and guess who missed it? Me.
The 10-story building also features a lounge, where the best sweets by Hideo Yokota can be tasted, and an atrium, which serves as both an exhibition hall and as an area for seminars for women.
Return here to Mikimoto Pearl Main Store page after reading this Mikimoto International Pearl Boutique Ginza Tokyo page.