Looking for a place to buy Mikimoto pearls?
When you're in Osaka, Japan, here's one of the places to buy Mikimoto pearls.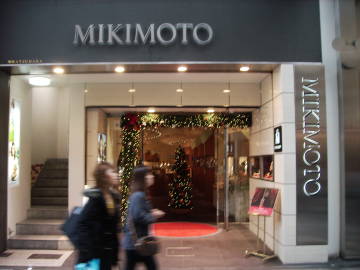 This area was so busy with foot traffic, I could hardly get a clear photo of the store.
What struck me right away inside this place to buy Mikimoto pearls in Osaka, Japan were the large lighted images of international Mikimoto stores in London, Paris, Costa Mesa, New York and the main store in Ginza.
A red carpet at the entry way and a handsome Christmas tree greeted the customers.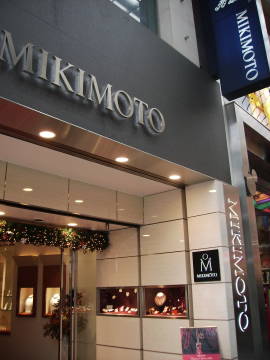 Each Mikmoto store wears it's own unique design. This place to buy Mikimoto pearls is narrower and deep with welcoming curvy countertops. Artificial calla lilies enhanced the wedding ring selection, which interested me because for my own wedding I carried a single white calla lily.
Soft music soothed shoppers into a mood to buy Mikimoto pearls as couples were choosing their wedding rings.
I enjoyed seeing the small pink camel with the pearl drop collar in almost every store which helped advertise their "Oasis--Over the Silk Road" promotional pieces.

Here I picked up a new brochure and took a good hard look again at the Mikimoto pearl grading pyramid which was on display with the Best of the Best Mikimoto quality pearls at the top and the uncoated nuclei at the bottom.
These uncoated nuclei generally come from USA rivers. This is of special interest to me living near the Mississippi River in Muscatine, Iowa where Japanese pearl growers used to come and buy shells for this purpose.

This was my last Mikimoto store on this trip to visit and I will admit, yes, I was running out of questions, but looking back, of course, now I have a whole new list of things I wish I would have inquired about.
Go here to the main list of Mikimoto stores after reading where to buy Mikimoto pearls when in Osaka.
Search here.