Ever wish you could feast your eyes on a tray of Mikimoto Pearl Earrings?
Mikimoto Pearl Earrings...I had the pleasure in Belfast, North Ireland to see several.
Lunn's at Queen's Arcade
Belfast BT1 5FE
Tel: 028 9032 9799
Website: www.lunns.com
I love it when I'm rambling around some city and run into a store that sells Mikimoto pearls. That happened in Belfast, North Ireland recently.
Lunns in the Queen's Arcade carries a large line of Mikimoto pearl earrings and other pieces.
These photos were displays in the window...that's how I discovered that Mikimoto pearls were sold here.

         Queen's Arcade Belfast


A kind salesgirl invited me to sit down and view the pearls. She brought out a tray of stud mikimoto pearl earrings, so I could compare the sizes, shades and quality. Seeing these close up right before my eyes was super! The various subtle shades in these gorgeous pearls beams through their mirror like quality. A soft pink shade is the most desirable...at least to me.
This is the first store selling Mikimoto pearls that I've visited where I've been invited to sit down. Wow...I really appreciated that. Maybe I wasn't a buyer, but certainly someone who showed great interest in the Mikimoto pearls for sale.
As far as pearl training, she said a representative from Mikimoto in Japan comes and trains them on pearl characteristics and quality.
After so many visits to Mikimoto stores and other fine jewelry stores that sell their pearls I'm coming up with quite a list of ways I'd want my customers treated "IF" I ever open a physical pearl store.
For sure, treating each and every customer as "The most special person in the world," would be at the top of my list. Asking them to sit down, showing the pearls, inviting them to try them on...those actions would be close behind.
On the Lunn's website I noticed that they also have an antique jewelry section in their store. I was too busy with Mikimoto pearls to notice these antique pieces at the time. A shame....I love looking at antique jewelry, especially if any contain natural pearls.
Belfast is amazing and there was almost a problem for me of "no room at the inn." I'm forever indebted to the Lisburn Police force for their enormous and loving help in finding me a Bed and Breakfast at behind the midnight hour....but that's another story. I really have to figure out the "planning ahead system of travel!"
Here's a close up photo of the Rolex clock in the Queen's Arcade in Belfast. One often sees the Mikimoto name in the same area or store as Rolex.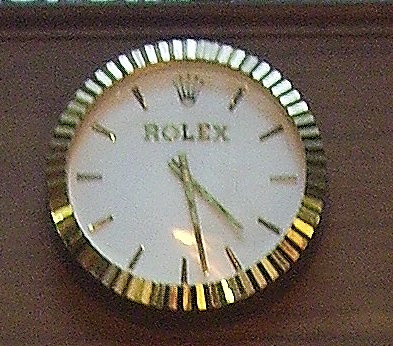 Rolex Clock at Queen's Arcade Belfast
Go to list of Mikimoto Stores after reading about Mikimoto pearl earrings in Belfast.