Mikimoto Ginza
in the Summertime
Mikimoto Ginza was all decked out for Christmas last time I saw it.
Now it's in full bloom with a gorgeous flower garden.
It was also the day for window washing....how would you like to wash these windows?
The store was closed for the day....not sure why, my Japanese isn't too polished....but maybe for the window cleaning.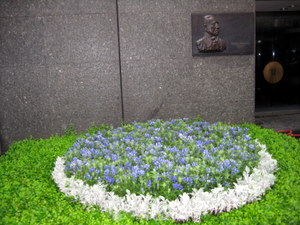 Mikimoto Flowers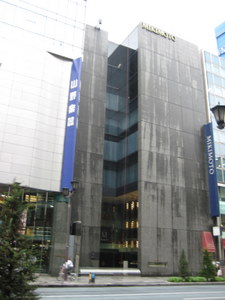 Mikimoto Main Building
I wanted to see the new Mikimoto 2 Boutique during a stopover in Tokyo.
K Mikimoto
Read more about Mikimoto by clicking on his name above.
So decided to walk the couple of blocks to visit the main store as well. It was closed, but that left time to visit the Tiffany store across the street.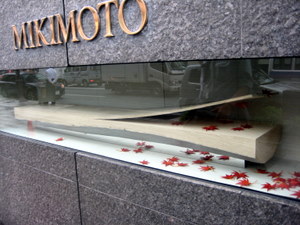 Mikimoto Window
This great long, skinny window would be fun to decorate. It's the second unique display I've seen in this window.
Ginza is an upscale area with lots of big name brand stores and larger than life video screens on street corners, sort of like Times Square in New York City.
Mikimoto Sign
Get off at the Ginza stop in Tokyo and you're almost to Mikimoto Ginza....but avoid morning rush on Tokyo subways....they're very squashy...best to leave room for hurried locals going to work.
Mikimoto Ginza at Christmas time.
Mikimoto 2 Boutique.
Tiffany Ginza across the street.