Mikimoto Pearls in LA
Yes, there are Mikimoto pearls in LA, right next to the exclusive Wilshire Beverly Hills Hotel at the end of Rodeo Drive shopping district.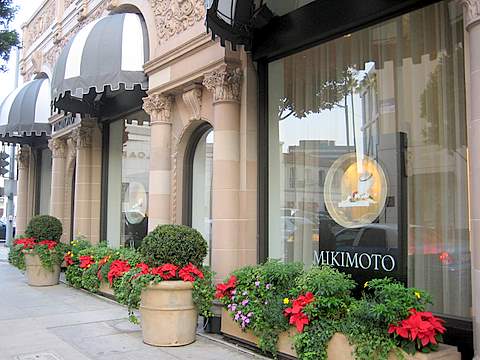 Mikimoto Store in LA Photo by Kari


I finally found myself in Beverly Hills, California and after visiting about fourteen Mikimoto stores around the world I had a chance to visit one of the USA flagship Mikimoto shops.
Mikimoto stores have a nack for getting the most elaborate locations, like this one, right next to the exclusive Beverly Hills Wilshire Hotel on Rodeo Drive, which is a favorite shopping destination of the Hollywood stars.
The sales associate greeted me warmly and with patient kindness answered all my questions as I carefully gazed at each and every piece of Mikimoto pearls in LA jewelry.
It was evident that he really loves his job and is very knowledgeable as well as enthusiastic about the pearls he sells.

Mikimoto Wilshire Hotel Los Angeles Photo by Kari
The store in LA has the customary black interior which always seems to add to the elegance of these lovely pearls.
As most everyone knows, the Mikimoto company only chooses the highest quality pearls for their jewelry....and this is obvious when looking at the gorgeous pieces.

Mikimoto Store Los Angeles Photo by Kari
As I looked at the strands of various sizes I commented on the pinkish overtones and asked if that was the most popular. The associate then stressed the importance of trying on pearls, because one's skin tones play an important role in what looks best on each individual. He shared an example where the pinkish pearls just didn't look right on one woman, but a similar strand with greenish hues looked smashing. He said, she then quickly purchased them.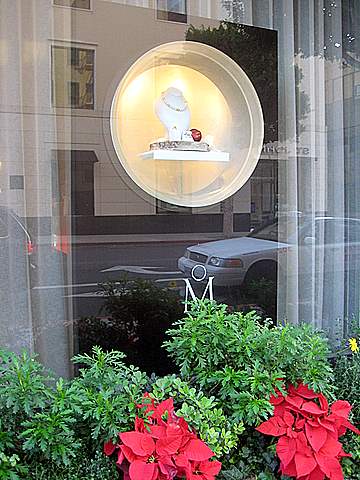 Mikimoto in LA with Poinsettas Photo by Kari
We talked about the shame it is to drill these magnificent pearls, but then that's a necessity for making strung pearls. However, the associate showed me a wonderful ring with a large white South Sea pearl that wasn't drilled, but tension fit into the ring. This unique ring was beautiful. I had never heard of that technique before now.

Dining in Front of Mikimoto in Los Angeles Photo by Kari
I ended my visit to Mikimoto pearls in LA by examining a "Pearls in Motion" necklace which has been one of Mikimoto's most popular lines. These are amazing necklaces which allow for amazing variety by repositioning the pearls.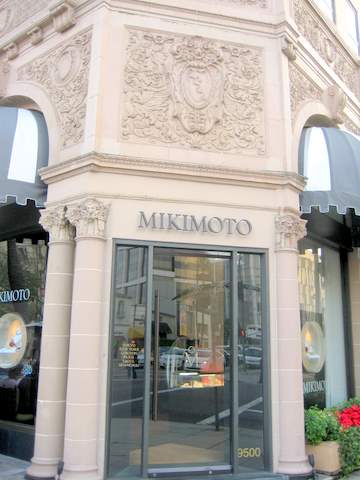 Mikimoto LA Photo by Kari
After doing some more window shopping on Rodeo Drive I accidentally ended up at Mikimoto Pearls in LA again, but this time in the dark...so I was able to get a couple of night photos too.

Mikimoto at Night in LA Photo by Kari
And, as I've come to expect...where there is a Mikimoto store, there's often a Tiffany & Co store nearby. Rodeo Drive in Los Angeles was no exception. Sure enough, there was a large Tiffany's a stone's throw away.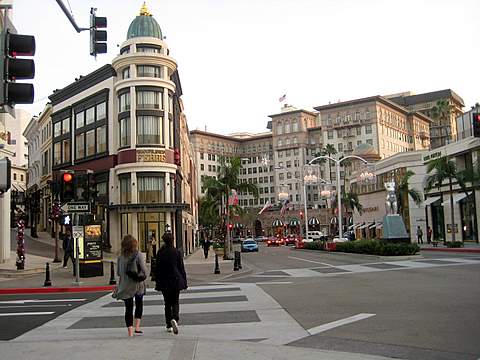 Looking Toward Mikimoto from Rodeo Drive in Los Angeles Photo by Kari
Getting to Rodeo Drive, I had a lovely walk through Beverly Hills and enjoyed seeing so many mansions with their manicured hedges and lawns. Being from Iowa, it was a thrill to see so many blooming flowers in December...note the blooming poinsettias in front of Mikimoto. Even if I'm not much of a tour person....I did go on one. I admit it was thrilling to see where Lucille Ball used to live across the street from Humphrey Bogart.
Beverly Hills Mikimoto
Regent Beverly Wilshire
9500 Wilshire Boulevard
Beverly Hills, California 90212
Phone: (+1) 310-205-8787
See a list of my other Mikimoto store visits on the bottom of this page.
Find other Mikimoto store locations here after Mikimoto pearls in LA.