Value of Mikimoto Pearls
Dublin, Ireland
Value of Mikimoto Pearls...what will increase the price by $1,000 for a pair of earrings?
In Dublin, Ireland, Mikimoto sells their jewelry at Weir and Sons rather than having their own store.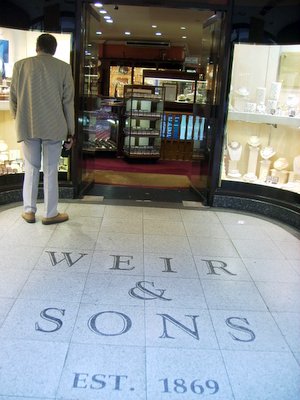 I will show you a comparison of the value of Mikimoto pearls in a second...just keep reading.
Mikimoto has two display units right near the front door in Weir and Sons. They are awkwardly placed in such a way that it's unclear whether or not customers can go between them in order to view the pearls closely.
At any rate, one can still find out the value of Mikimoto Pearls here.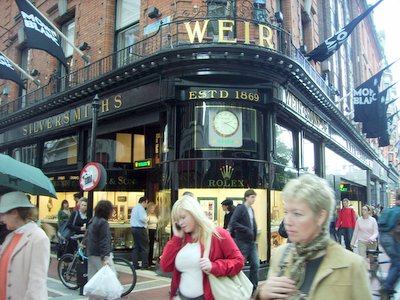 Weir and Sons
The clerks were helpful, but it was a busy place with serious customers needing their time.
I stumbled upon this store which sold Mikimoto pearls while "killing time" in Dublin, Ireland and handing out cards for my website. I also discovered "door bells" in Dublin jewelry stores. There were a few of these in London, but lots in Dublin. It took a little nerve to "bother" anyone by ringing the bell, when all I wanted to do was ask a few questions and give them my business card, but it grew easier and easier to "be a bother."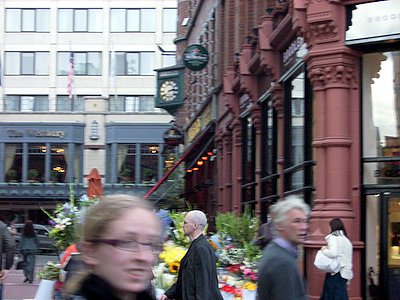 Weir and Sons Dublin, Ireland
Here is a good place to evaluate the value of Mikimoto pearls in two pairs of earrings. One is 7-7.5mm and grade AA for 475 Euro (about $633 USD). The price jumped for only a .5mm increase from 7.5-8mm and a grade AAA. These are 1241 Euro (about $1655 USD). That's an additional 766 Euros or over $1000 USD extra for the better luster and slightly larger size.
In the window there were three pearl necklaces draped one upon another. They are from the new Elements of the Universe collection each containing diamonds of graduating colors, blue, yellow and white, representing, water, earth and sky with Akoya, Tahitian and South Sea pearls.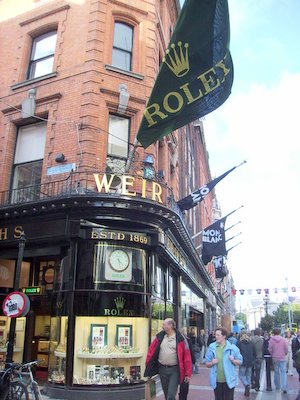 Weir and Sons Rolex Flag
I offer lots of pearl education on this site and feel it's valuable for employers in training their employees. I hear so many silly things said about pearls when visiting jewelry stores.
After seeing this enormous flag for Rolex watches, I realized this store, Weir and Sons, must be pretty big sellers of Rolex.
Weir and Sons
I love these large, old established jewelry stores. Those, along with pubs and churches are the main establishments which retain the original integrity of ancient architecture...which really interests me.
Go to main Mikimoto Pearl Store List after reading about the value of Mikimoto Pearls.
Search here.