Dangling Earring Pearl
These great dangling earring pearl earrings may be just what you're looking for!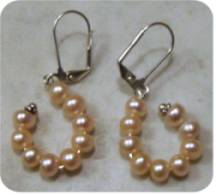 These were fun to make and design...yes, a "KariPearls Original". The 5mm pearls just seemed to go nicely on the sterling silver pin and a little bend made them into these bouncy curves.
Peach pearls have a nice neutral color...a color that goes with almost everything. You'll find yourself wearing these often.
These are freshwater pearls of a natural color. I love natural colored pearls. It was great fun for me to see mussels opened up before my eyes and as soon as the pearls were removed from their sacs, the lovely colors of white, lavender and pinks and peaches were evident. I expected them all to be the same color, but no, several colors of pearls grew in one mussel.
Sorry, this style is no longer available.

Go to main Pink Pearls after Dangling Earring Pearl
Search here.