Designer Pearl Necklace in Sterling Silver
This fetching designer pearl necklace is sure to charm the best in you. My Indian friend, Suresh, has created this masterpiece. Pearls create a sense of well being like nothing else possibly can.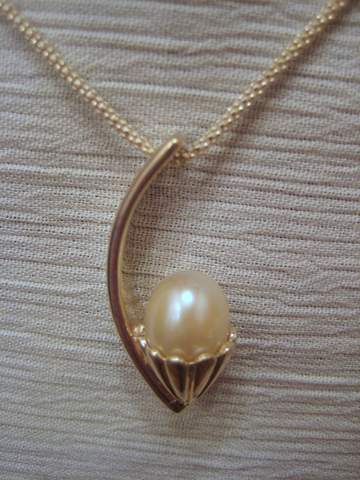 Suresh's Designer Necklace in Pearl
I think of a "Winning Cup" when I see this fabulous necklace. I met Suresh, the designer, in a pearl shop near the Persian Gulf and because of our mutual interest in pearls became fast friends. He showed me this design then which was only a sketchy rendering on paper and later had it made up in sterling silver so I could offer it on my site.
It was a thrill to see this beautiful three dimensional pendant after first seeing the idea only in a sketch.
I added a whopper of a cultured freshwater pearl that I watched being harvested out of a large mussel in China. It's a gorgeous undrilled pearl in its pristine virgin state. I only rinsed it off with water after bringing it back from the pearl farm.
That's what I love about pearls, they require no cutting, polishing or enhancement of any kind. They are just beautiful from the moment they emerge from the mollusk.
So, both the necklace and the pearl are very special to me because of all of the personal attention paid to them both.
I almost hate to part with it, but Suresh assures me his silversmith can make another.
A quality black cord with sterling clasp also comes as an alternate choice for more informal wear.
I am proud to offer this charming designer pearl necklace by a good friend of mine.
Sorry, this design is not presently available.