Fossil Giant Clam (Tridacna Gigantea) polished to perfection, museum quality 500Ibs!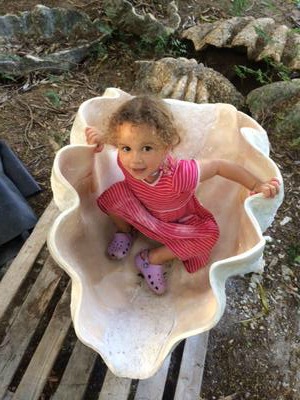 Fossil Giant Clam (Tridacna Gigantea) polished to perfection, museum quality 500Ibs!
Type of shell: Fossil Giant Clam


Carat Weight: 500lbs
Shape: Basin
Size: 45"
Color: White/beige
Location of Origin: Kenya/Tanzanian border
The clam has been reinforced with metal bars to hold it together, these cannot be seen.
This clam is about 180,000-220,000 years old and has been polished to perfection (you can see your own reflection!) The 2 shells are molded together by ancient limestone as hard as cement and further reinforced by metal bolts at the foot. One of my single clam shells (single clam shells also available) with a weight of 67kg was sold by Bonhams Auction House for $3,900.
Certificate: Being fossil giant clams from an extinct species (T.Gigantea) these clams don't fall under CITES regulations as do modern day's T.Gigas, hence they can be exported worldwide. A fossil certificate and documentation is issued for every clam.
Price: No longer available
Fossilized clam shells are sometimes found in coral reef limestone along coastal area quarries. The limestone is the building block in the production of cement. This coral reef was formed during the Pleistocene historic period, the time of the Ice Ages. The main build up of the reef took place during the main integral period (240,000 to 125,000 years ago). During the later interglacial period, sea levels rose up to 20 meters above sea level, and during this time the biggest part of the fossil reef was build up. These fossil clamshells are only found on land and not in the sea as they became extinct. Their location near the surface suggests that they only lived here during the later part of the second reef building period in the Pleistocene. Today, giant clams (T.Gigas) only occur in the eastern Indian and the Pacific oceans.