Free Pearl Heart Card
This free pearl heart card is easily downloaded and printed.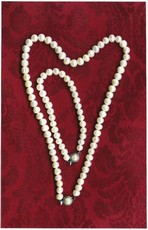 Simply Left-click on the photo of this pearl heart card to open the card in Acrobat Reader. Make sure you have Acrobat reader installed. Install Acrobat Reader here for free...then you'll be all set to print out a unique card for whatever occasion you wish.
When I brought home this red patterned fabric...yards of it...for our living room drapes, I knew it would also be a great backdrop for a pearl photo.
So I designed this card using the first type of pearls I sold against that fabric. It was actually made for an earlier promotional campaign...but in the back of my mind I always knew it had potential for a card as well.
Here's my first chldren's book...a true story about Kari Pearls you may download it free or read on this site: 6,000 Pearl Baby Bracelets
More art ideas on KariPearls.com here.
After this free pearl heart card page, view unique photographs.
Search here.
Go ahead sign up for my e-zine...you'll be glad you did.