Fresh water natural pearl (Heart shaped rare n antique pearl )
by lakhwinder singh mattu
(pune, maharashtra, india)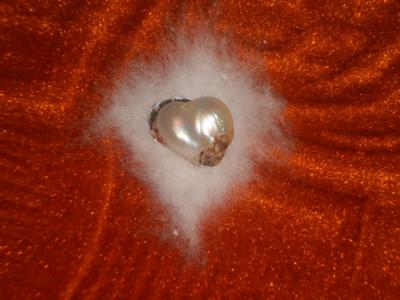 Rare Heart Shaped Pearl
Hello,


I am Lakhwinder Singh Mattu from India. Longtime back a group of saints from the himalyan region of India visited my place that time they gave me a pearl as gift.
Now after 10 years when one of my close friend visited my place he said me that this pearl is not a common pearl. It is a good quality pearl and it has a great value in India and international markets.
Then as he suggested I took the laboratory reports for that pearl and now in the lab reports it is stated that the pearl is "freshwater natural pearl". Now I am interested in selling the pearl. Kindly give suggestion n guidelines for selling the pearl and also I am expecting your offer regarding this pearl.
The lab reports are as follows :
*FRESH WATER NATURAL PEARL*
1] WEIGHT : 26.48 CARATS
2] COLOUR : CREAM
3] CUT : IRREGULAR
4] IDENTIFICATION : FRESH WATER NATURAL PEARL
5] S.G. : 2.73
6] R.I. : 1.57 SPOT
7] U V FLUORESCENCE : N.A
8] POLARISCOPE : AGG
9] MICROSCOPE : TYPICAL STRUCTURE
10]REMARKS : EFFERVESCENCE OBSERVED
11]REPORT NO :2011-2012/4677B
* TESTED AT : PANGEM TESTING LABORATORY
AN ISO 9001;2008 CERTIFIED ORGANIZATION
BY DR . JAYSHREE PANJIKAR
FGA(UK) ,DGEMG(GERMANY),FFIG,FSI,
CERTIFIED DAIMOND GRADER HRD(BELGIUM)
PEARL GRADUATE GIA(USA)
WEBSITE : www.pangemtech.com