Found A Freshwater Pearl?
Ever found a freshwater pearl?

Last time I was visiting my mother at my childhood home in Echo, Minnesota, I told an old friend about this website that I'm making and how I love pearls. She surprised me by saying that her mother has a ring with two natural pearls from the Minnesota River in it. One pearl is white, the other lavender. I have yet to see and photograph that ring....but I was amazed that right behind my parents' farm pearls were found in the river.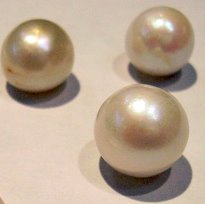 Natural Lake Pepin Pearls
These gorgeous beauties in this photo are from Minnesota also. They were found in Lake Pepin which is a widening of the Mississippi River.
Have you found a pearl? Many countries in the world have pearls in the freshwater mollusks. Here is one found in India.
I invite you to upload a photo or video of your pearl and tell us how you found it and anything else you'd like to share about it.
Have You Found A Natural Freshwater Pearl?
Do you have a great story about finding a natural freshwater pearl? Share it!

My young friends who live along the Mississippi River found three pearls one day when gathering a few mussels for fish bait.

Misshapen freshwater pearls used to be called slugs....but today, we are much more appreciative of these natural beauties and even if they are not perfectly round, they are still treasures.

If they are perfectly round, then you have a valuable pearl for sure.

I invite you to share your story of finding a natural freshwater pearl and don't forget to add a photo!
What Other Visitors Have Said
Click below to see contributions from other visitors to this page...

Go to main finding a pearl page after freshwater pearl.
Search here.