Getting to Mikimoto Pearl Island in Toba, Japan
Just where is Toba, Japan and how does one go about getting to Mikimoto Pearl Island?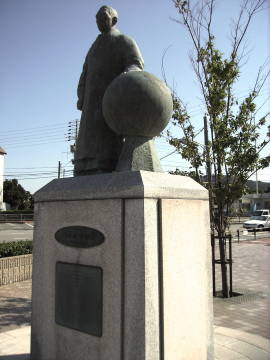 Statue of Mikimoto with Pearl at Toba, Japan
The first step in getting to Mikimoto Pearl Island is going to Japan and then to the city of Toba, where Mikimoto was born on January 25, 1858.
Airlines often offer specials to Asia in the fall, so be patient. Since I'm an avid Northwest Air Miles collector, that makes NWA my first choice and they regularly offer good prices. (Using a NWA visa credit card also helps us accrue miles. We religiously pay of the balance each month to avoid interest costs.)
NWA offers cash and miles in the fall which is usually a good choice, but this time, NWA offered an even lower priced option without miles. For $630 from Moline, IL (20 minutes from my home) we flew to Osaka, Japan in October. We found the Lonely Planet guide book helpful in getting from Kansai airport into the city and also in finding a place to stay. I really don't like to travel with "my nose in a book," but this guide is packed with helpful info.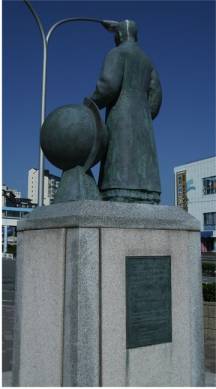 Getting to Mikimoto Pearl Island and Toba (about 2 1/2 hours southeast of Osaka) is easy from Osaka on the Kintetsu Limited Express train for about $30 to Ise and $3 more to Toba. Japan has a fantastic train system. Price ranges depend on the speed of train, and the fast ones are pricey. Buses are also an option and a little cheaper.
Once at the Toba train station, one only needs a helpful person to point them in the right direction for getting to Mikimoto Pearl Island which is just a short (about 5 minutes) and pleasant walk down the street along the bay and across a covered bridge.
You'll see this statue of Mikimoto not far from the train station, honoring native born Kokichi Mikimoto.

Most likely there will be crowds of happy uniformed school children to dodge on the bridge.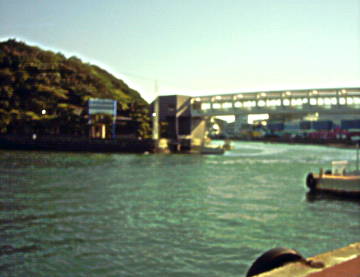 Lockers are provided for travelers enroute who have their luggage or backpacks with them. Before we saw the lockers we'd already asked the kind girls at the desk is we could leave our bags there. "Certainly, yes, you may." Our first encounter after getting to Mikimoto Pearl Island and the whole visit was pleasant at this very friendly, happy place. Everywhere in Japan we met kind, helpful people who often volunteered their help after noticing bewildered travelers in their midst.
Admission price to the island complex was about $15. Credit cards are accepted.
If pearls are "your thing," plan on spending the day. You won't be disappointed.
After reading "Getting to Mikimoto Pearl Island," return here for main Pearl Island page.
Search here.
Photos and Text copyrighted by www.karipearls.com