Gothic Pearls
Carried from Rome
Gothic pearls were gathered in abundance during the conquering of Rome in the fifth century.

Outside of Constantinople, the demand and fashion for natural pearls did not cease with the downfall of the Roman Empire and the spoliation of Rome in the fifth century.


The treasures accumulated there, and the gems and jewels were carried away by the conquering Goths and scattered among the great territorial lords of western and northern Europe.
In the ancient cities of Gaul, in Toulouse and Narbonne, the Ostrogoth and the Visigoth kings collected enormous treasures.
The citadel of Carcassonne held magnificent spoils brought from the sacking of Rome in 410 by Alaric, king of the Ostrogoths,
consisting in part of jewels from the Temple in Jerusalem, these having been carried to Rome after the spoliation of Jerusalem in 70 A.D.
Several beautiful objects of this and somewhat later periods are yet in existence, notably the Visigothic crowns and crosses, in the Musee de L'Hotel de Cluny, Paris,
the most beautiful of which are probably the crown and cross of Reccesvinthus which have several natural Gothic pearls on them.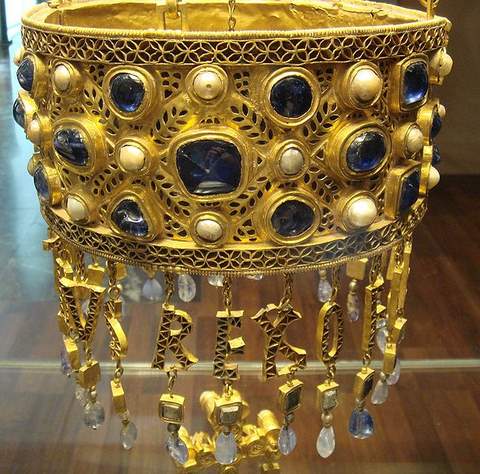 Votive Crown of Visigoth King Reccesuinth
Most of the information from Kunz & Stevenson book published in 1908.

Go to main natural pearls in history page after natural Gothic pearls.
Learn more details about Visigoth's natural pearl crown.
Buy Natural Pearls Here
Go to Homepage after Natural Pearls in History.
Go to main Famous pearl page.
See photos of an ancient Native American Indian pearl necklace.
Search here.