Haapsalu Shawl Treasure of Estonia
Haapsalu shawl or Haapsalu scarf is a traditional knitted lace shawl originating from the small town of Haapsalu in Estonia.
Haapsalu is a small town made of colorful wooden houses. On the bus to Haapsalu I saw many pine forests which explains the extensive use of wood for building. Many are lovingly kept up and painted in pastels colors while others are preserved but in need of paint and repairs. I enjoyed the hand forged hinges and filigreed wooden decorations.
Haapsalu also has a castle! I love castles and although this was a ruin, it did not disappoint. It also has an amazing old painted train station and train museum.
After God spoke to me to travel to Estonia, I wondered exactly where I should go and asked God for more clear direction...something that would point the way for which city I should visit in Estonia.
I never dreamed I've be traveling to Estonia. It's always seemed so far and away and mysterious to me.
Haapsalu consists of the older downtown and tourist area and the modern mall not far away which houses many clothing stores, rug shop, grocery store and other places of interest.
I was surprised at the number of nice restaurants and realized that eating out must be an important recreation for the residents of this small place.
The answer came clearly one Monday morning when I was spinning wool on my daughter's spinning wool with other spinning friends at Serendipity Yarn Shop in Muscatine, Iowa.
It's been great fun getting together once a week with other ladies who share the joy of spinning and knitting.
Estonia Lace Haapsalu
One of the other spinners had brought in a book by Nancy Bush about Estonian lace. (See her books for sale at bottom of page.) She featured the delicate lace shawls of the seaside village of Haapsalu.
Estonia Lace Haapsalu
It was perfect. I would go to Haapsalu and I did. I not only was able to see many wonderful hand knit shawls but purchased one for myself. It was not cheap, but it made a wonderful souvenir of Estonia. And yes, it does fit through a ring.
There are many delicate patterns available in the shawls and each pattern is named after a special person who is somehow related in some aspect to Haapsalu, Estonia.
Haapsalu is right on the Baltic sea. I was hoping to stroll along the beach and pick up amber. Such was not the case...no amber. That was only found in the shops in Tallinn the capital of Estonia's shops.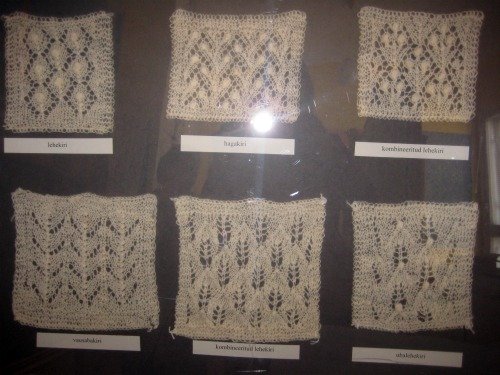 Estonia Lace Haapsalu
Haapsalu flourished as a seaside resort in the late 19th century and shawls made by local artisans became first popular among Russian aristocracy as souvenirs and gifts. Later the Haapsalu shawls became known also in Germany and in Scandinavia, they were also displayed on various exhibitions.
Most of the wool used in these wonderful shawls is imported. It was explained to me that older farmers were terrified to start their own farming operations after the fall of communism, hence the lack of local wool. Thousands of Estonians were deported during the Russian occupation. Most never returned. The younger people do not have this hesitancy so hopefully this situation will improve.
Estonia Lace Haapsalu Shawl
The traditional technique is still alive today. A traditional Haapsalu shawl is a rectangle measuring 100x100 to 150 x150 cm.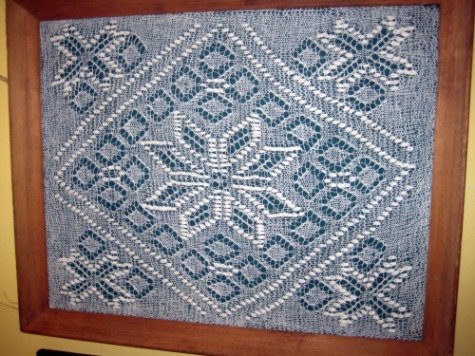 Estonia Lace Haapsalu
It consists of three parts: a center section, a border and an edge which is knitted separately and sewn to the main part.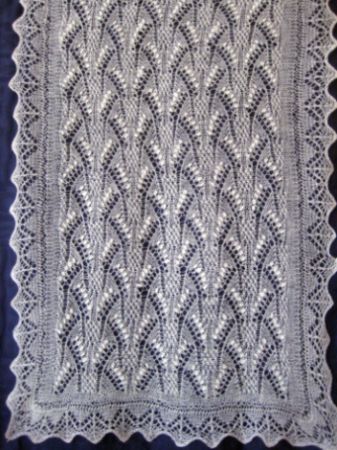 Estonia Lace Haapsalu
Fine lamb wool yarn (mostly white) and wooden needles are used. Traditionally the shawl had to be so fine it was possible to drag it through a ring.
The fine knitting tradition is being kept alive in Haapsalu, Estonia through the schools. Each girl when reaching a certain grade in school is taught to knit a Haapsalu scarf. I was told there are many tears while learning this complicated knitting process, but nothing can compare with the pride when they complete the shawl. The teenagers often "rub it in" to their mothers that they know how to make one when their mothers do not.
Most mothers beam with pride at their daughter's accomplishments and care not that the daughters are better skilled than themselves.
More than knitting talent has come out of Haapsalu, Estonia.
Ilon Wikland
is a well known children's illustrator.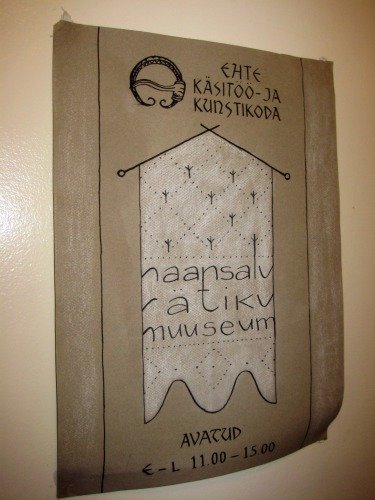 Estonia Lace Haapsalu Shawl
Ilon Wikland's museum,
Ilon's Wonderland
is a delightful children's space and learning/art center in Haapsalu.
See where else I've been after Haapsalu shawl.
The folks in Haapsalu have written their own Estonian knitting book about the Haapsalu lace.