Handcrafted Pearl Jewelry
"One of a Kari-Kind"
Unique handcrafted pearl jewelry which is one of a Kari-kind. There will never be another quite like this one.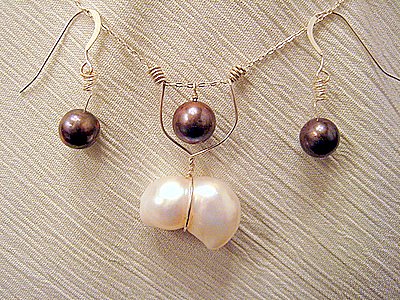 Handcrafted Pearl Jewelry
I knew the moment I saw this very large white baroque pearl that it would make a stunning piece of jewelry.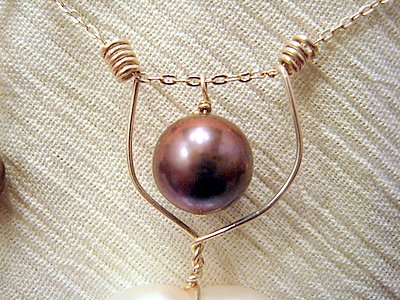 Freshwater Black Pearl
So, when my friends, Janette and Selina, were at my home making jewelry with me, I decided to tackle the challenge of designing a special necklace for this wonderful pearl.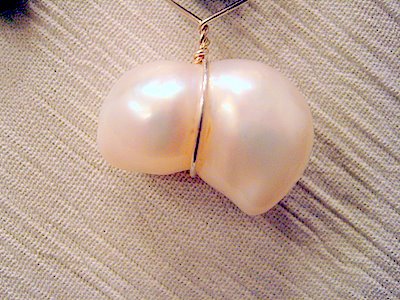 Large Freshwater White Pearl 22mm X 16mm
Pearls like this are one of a kind, so this handcrafted pearl jewelry necklace is the only one I'll ever be able to make.
It seemed natural to wrap a sterling silver wire around the pearl's middle and go from there which was up and out then into curls.
Freshwater Black & White Pearl
That made a neat place for another pearl to dangle over the top of the big white freshwater baroque pearl and I chose to use a large 9mm dyed freshwater black pearl.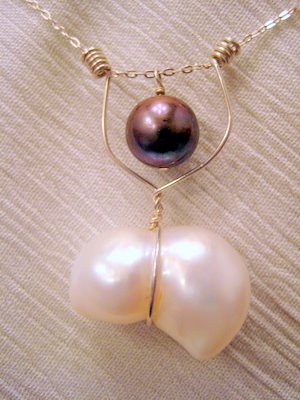 Black & White Pearl Jewelry
I love the contrast of the black and white. To me they compliment one another and finish off the piece with pizazz.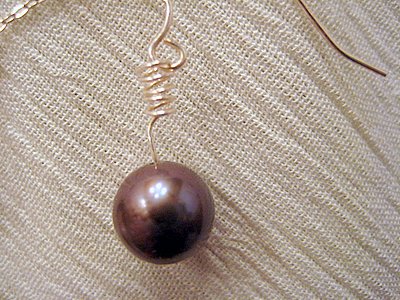 Freshwater Black Pearl Earring
The matching black earrings with curled sterling silver wire complete the set, making a showcase for the large white pearl.
Freshwater Black Pearl Earring
I like interesting pearls. Spherical pearls are lovely, and yes, they're usually the desired shape, but there's something so enchanting about large asymmetrical one-of-a-kind pearls. Some ladies prefer them.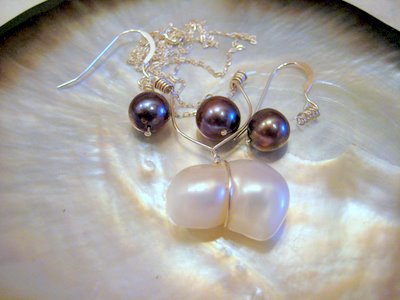 Freshwater Black Pearl
Nitty Gritty Details for One-of-a-Kari-Kind:
Pearl Type: Cultured Freshwater
Color: White & dyed Black
Shape: Baroque & Round
Size: White: 22mm X 16mm Black: 9mm
Luster: Good
Surface: Good
Matching: Good
Length: 18"
Metal: Sterling Silver
Sorry, this set is no longer available.
Go to main white pearl page after handcrafted pearl jewelry.
Homepage for Karipearls