Images Lavender Pearls in a Rope Necklace
Here are more images lavender pearls ...What is more lovely than Naturally colored Lavender pearls?
When I first saw Lavender Pearls in person...I was trapped by their charm and beauty.
Images of Lavender Pearls can be seen online, but nothing compares to seeing them in person...or wearing them. Your friends will be amazed at what loveliness is around your neck...
These pearls are slightly button shape, but other than that, they are nearly perfect and stunningly beautiful plus great fun to wear, especially since they are in a rope and can be worn so many different ways.
They make one feel like a princess...they are that lovely.
Click on any photo to view lavender pearls.



Images lavender pearls by clematis
Of course, I can't literally guarantee that people who see your lavender pearls will raise their eyebrows...but it's happened to me so often, by now, it's a pretty good guess that is what will happen.
All the photos here are of the same necklace. The light has made some of the pearls look pink. This one at the top best shows the lavender color.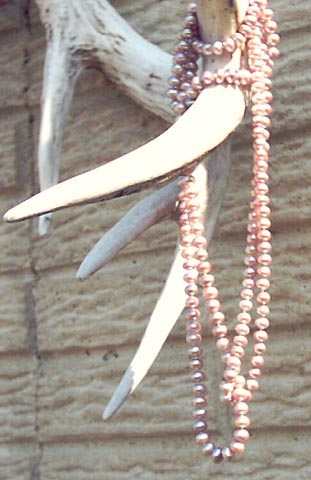 Images lavender pearls on deer antler,
Wearing real pearls builds self esteem. Look at these images of lavender pearls and maybe you'll agree that they give off a sense of style and good taste.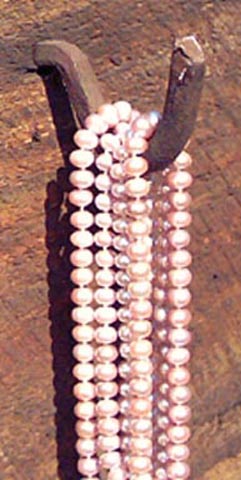 Hand forged hook with lavender pearls
These images of lavender pearls can only give a glimmer of their beauty. Be the first one in your circle to own lavender pearls and you'll be the envy of all.
Clematis with lavender pearls
Lavender pearls are a natural color. The girls who make these necklaces for Kari Pearls do a great job. Ropes are Kari Pearl's favorite length...they can be worn in lots of ways and are strikingly rich looking.
Search here.