Kinetic Fish Pearl Jewel by Lyn Punkari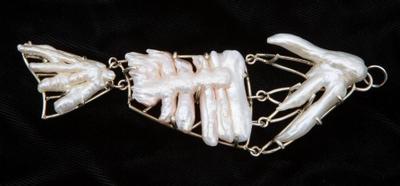 Kinetic Fish Pearl Jewel by Lyn Punkari
The Kinetic Fish Pearl jewel is by goldsmith and lapidary artist Lyn Punkari. Lyn owns and operates the online custom and historic jewel business Darkridge Jewels. Her site is at
http://www.darkridgejewels.com
. Other baroque pearls she has made are displayed in her site in her baroque pearl jewel album. Lyn lives in Louisville Kentucky.
Lyn experimented with a modern take on baroque pearls when she made the Kinetic fish pendant. The three segments of the fish are hinged and move as the wearer moves. The piece is three very large and interesting freshwater baroques on a jewelers silver frame. It's quite large also, 5 inches from tip of head pearl to tip of tail pearl and just under 2 inches wide. The owner obtained a lot of these odd 'fish skeleton bits' shaped pearls from china.
Join in and write your own page! It's easy to do. How? Simply click here to return to Baroque.