Baroque Pearl Objects d' Art
Baroque pearls make perfect centerpieces for
objects d'art
as seen in these examples from museums around the world.
Several museums around the world hold these amazing Objects d'Art so enjoy the following irregular pearls used in artwork.
A work of art in the visual arts is a physical two or three dimensional object that is professionally determined or popularly considered to fulfill a primarily independent aesthetic function.

This is one of my all time favorite pearl objects. Isn't it just fantastic? I would love to find a pearl like this one and the artist was very creative in using his imagination to make a dragon out of it.
I photographed this beauty at the British museum in London.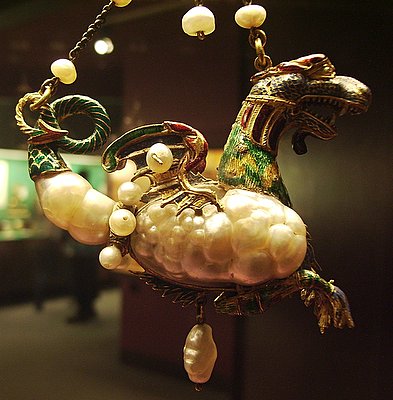 Monster Pearl Photo by Kari
A singular art object is often seen in the context of a larger Art movement or artistic era, such as: a genre, aesthetic convention, culture, or regional-national distinction. It can also be seen as an item within an artist's "body of work" or oeuvre. The term is commonly used by: museum and cultural heritage curators, the interested public, the art patron-private art collector community, and art galleries.
Physical objects that document immaterial or conceptual art works, but do not conform to artistic conventions can be redefined and reclassified as art objects. Some Dada and Neo-Dada conceptual and ready made works have received later inclusion. Also some architectural renderings and models of unbuilt projects, such as by Vitruvius, Leonardo da Vinci, Frank Lloyd Wright, and Frank Gehry - are other examples.
The products of environmental design, depending on intention and execution, can be "works of art" and include: Land art, Site-specific art, Architecture, Gardens, Landscape architecture, Installation art, Rock art, and Megalithic monuments.
Have A Great Story About This Topic?
Do you have a great story about this? Share it!
More Baroque Pearl Objects d'Art
Click below to see more....