La Peregrina Pearl Owned by Elizabeth Taylor to be Sold at Auction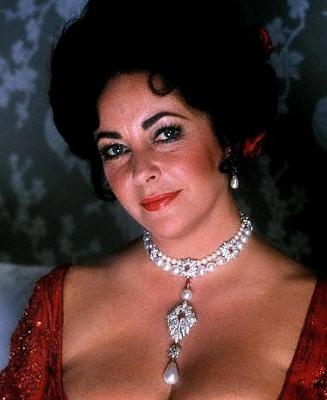 La Peregrina worn by Elizabeth Taylor
Another Burton gift in the collection is a spectacular necklace – the 16th Century La Pérégrina.


One of the largest and most symmetrically perfect pear-shaped pearls in the world, Burton bought it for Taylor in 1969 as a Valentine's Day gift.
King Philip II of Spain gave the pearl to Henry VIII's daughter Queen Mary before their marriage in 1554. When Mary died in 1558, the pearl returned to Spain, where it was put on show in the royal court.
One day Elizabeth Taylor
lost La Pérégrina
!
The collection also contains jewellery Taylor bought herself, including the Prince of Wales Plume pin brooch once owned by Wallis Simpson.
Her extravagant jewels were as fiery as her tempestuous relationship with legendary Welsh actor Richard Burton who paid for many of them. Robin Turner looks at the iconic 269-piece Liz Taylor jewellery collection Christie's is to auction off in December following the death of the Oscar-winning actress at the age of 79 last March.
The first jewel Burton bought for Taylor was the 33.19-carat Asscher-cut Krupp Diamond – one of the most flawless in the world – which later became known as The Elizabeth Taylor Diamond.
Set in a platinum ring, the diamond, which Burton bought for $305,000 in 1968, is expected to fetch up to $3.5m (£2.2m) at the Christie's sale.
Taylor once said of it: "My ring gives me the strangest feeling for beauty.
"With its sparks of red and white and blue and purple, and on and on, really, it sort of hums with its own beatific life."
And Burton later lavished on Taylor for her 40th birthday the heart-shaped Taj Mahal Diamond, a historic pendant dating back to 1627.
It was originally a gift from the Mughal Emperor Shah-Jahan or "King of the World" to Mumtaz-I-Mahal, his "most loved wife" in whose memory The Taj Mahal was built.
More about La Peregrina Pearl Owned by Elizabeth Taylor to be Sold at Auction