Pearls as Medicine in Ancient and Modern Days
Centuries ago, using pearls as medicine was common, especially among the wealthy. A German monk,
Albertus Magnus, in the 13th century
recorded pearls as medicine were good for "mental diseases", affections of the heart (also know as love-sickness) and in hemorrhage and dysentery.
Also in the 13th Century, Alfonso the Learned of Castile and Lion, recommended pearls for "paplatations of the heart and for those who are sad and timid, and in every sickness which is caused by melancholia because pearls as medicine purify the blood, clear it and remove all its impurities."
According to Alfonso pearls as medicine should be swallowed in an herbal mixture after first powdered, but in cases of melancholia, is was suggested that they be "daubed on the eyes, because they clear up the sight wonderfully, strengthen the nerves and dry up the moisture which enters the eye."
The book of Aristotle is where he claims to have gotten his advice for use of pearls as medicine.
In actuality, pearls as medicine are alkaline and contain calcium, and therefore would be useful as medicine for soothing heart and stomach upsets, especially when coupled with the right herbs.
"Pearls are made from the dewe of heaven which dewe the shellfysk margherita receyveth in certain times of the year." This is quoted from the ancient history book, Pliny's Natural History.
The following is a recipe for "Aqua Perlata," pearls as medicine are "most excellent for resorting strength and almost for resuscitating the dead." It's found in Anselmus de Boot"s book written when he worked in the early part of the of the 17th century in the royal court of Emperor Rudolph II of Hapsburg.
"Pearls first dissolved in vinegar, lemon juice or in spirits of vitriol or sulfur. Fresh lemon juice is added and the whole mixture sweetened with sugar. Now if there be 4 ounces of this solution, add an ounce each of rosewater, of tincure of strawberries, or borage flowers and of balm and two ounces of cinnamon water. Then shake well before using. Nothing more excellent can be had."
This was recommended for "pestilential and pernicious fevers".--pearls as probably actually worked because of the vitamin c in the juice and a touch of calcium in the pearls.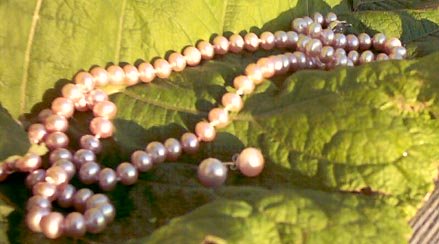 Pearls as medicine in the form of pearl powder is also used in modern times for both medicine to aid health and beauty.
Mikimoto used them as medicine and ate two pearls a day.

Although the use of pearl powder is not common in western nations, pearls as medicine in the form of pearl powder common in Asian countries.
Here's a copy of the indroduction of a pearl powder company's website..used with permission.
NOTE: For clarity: Micron = 2000nm & Nano = 40nm(nm = Nano meter /1,000 micron = 1 millimeter/ 1,000,000 nm = 1 millimeter) In other words, Nano technology deals with very, very small units of length. And Nano pearl powder is very very fine.
Zhejiang Fenix Pharmaceutical Co., Ltd. is the 1st of the world able to process Nano Pearl Powder (NPP) with nanometer Physical Ultra Fine Technology (PUFT).
Since 1991, Fenix has been focusing on development of health products from freshwater pearl, which is the most famous and affluent resource of the Pearl Kingdom. After years of cooperation with famous university and institutes, Fenix finally innovated PUFT to produce NPP successfully. The PUFT, which stands at a world leading position, can perfectly retain all natural nutrients of pearls, significantly improve absorption rate of pearl powder, stably acquire NPP with particle size distribution from 40nm to 80nm on average, and thus becomes a breakthrough in the thousands of years history that human being began to utilize pearls.
The mission of this company is "Care the human being with our sincere love". Thus, they are deemed to provide the best-quality products and services with continuous innovation and advanced technologies, and this is the reason why Fenix attracted a team that is sincere, integrated and careful.
This company attaches great importance to investments in hardware and software systems. On May 13, 2004, Fenix passed China GMP certification with excellent scores.
The following information was also available about their products.
Pearl powder contains at least 15 amino acids and over 10 micro-elements.
It can be added into conditioning creams, foundation creams, and other skin-enhancing products.
Pearl powder has been used for complexion care for thousands of years in China, Japan and other Asian countries.
They say it can tenderize skin, reduce speckles (freckles?), beautify the face, and resist aging.
It's approved by the State Food and Drug Administration of China as a traditional medicine.
Taken internally, claims to aid in:
a)Tranquilizing the mind
b) Arresting convulsion
c) Improving vision
d) Removing nebula
e) Disease prevention
f) Promotes tissue regeneration
In addition they claim it can adjust immunity, supply calcium and amino acids.
The following is a recent study done by "The Second Military Medical University ofChina."
Amino Acids ReleasingBeing so fine, Fenix NPP bears large specific surface area, which makes nutrients release easily. Test results proved that the amino acids release of Fenix NPP is positively correlated with time and about 5 times higher than that of micron pearl powder.
Comparison of Amino Acids Release between Fenix NPP and Micron Pearl Powder at Different TimeSample Repeat Amino Acids Release
5min 10min 30min 50min 60min
Fenix NPP 10 2.221¡¾0.305 2.946¡¾0.443 3.295¡¾0.469 3.731¡¾0.442 4.085¡¾0.565
Micron PP 10 0.796¡¾0.140 0.773¡¾0.081 0.878¡¾0.175 0.721¡¾0.083 0.821¡¾0.070
Skin Absorption
Skin absorption is extremely important to pearl powder when it is employed by cosmetics or applied to skin directly for it decisive to effectiveness and cost.With Ca2+ as the marker, tests revealed that the skin absorption rate of Fenix NPP is dramatically higher (6 times) than that of micron pearl powder. With this examination, the result for NPP is 1.595 while 0.364 for micron grade.
Higher absorption rate leads to lower consumption of pearl powder when it is used as additive to cosmetics. So is the same for direct skin care (e.g., facial mask). Either in terms of cost or effectiveness, Fenix NPP provides a better solution.
Skin Absorption Rates of Fenix NPP& Micron Pearl Powder £¨Q¡¾SD, n=10£© Time(h) Sample
1 2 4 6 8

Fenix NPP 18.52¡¾7.46 24.27¡¾6.88 26.98¡¾9.58 27.16¡¾10.78 31.97¡¾10.26

Micron PP 3.01¡¾0.44 3.42¡¾0.65 4.03¡¾0.51 4.29¡¾0.64 4.97¡¾0.82
Technical Summaries
Fenix PUFT for NPP is world leading and able to completely retain all natural nutrients of pearls and thus turns to be fundamentally different from chemical methods. Being produced by PUFT, Fenix NPP bears even particle distribution of mostly under 100nm and is easier to be absorbed. Fenix plant strictly follows GMP standards to ensure product quality.
Test results revealed the high efficiency of Fenix NPP, which provides a better solution of saving costs and enhancing effectiveness.
Pretty powerful stuff...Learn more about Chinese pearl powder here.
Interesting and perhaps a bit amusing for us westerners,
but maybe we need to consider this. After all...the Asians are beautiful people.



Special thanks to Joan Younger Dickson for her BOOK OF PEARLS where some of this information about pearls as medicine was acquired.