Mikimoto and Wife Ume of Pearl Island
Young Mikimoto and wife Ume of Pearl Island commemorating seeing the first cultured pearl -- enjoy this bronze bust honoring Ume and view a painting.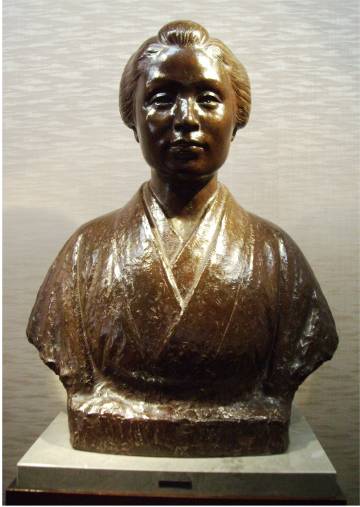 Bronze Bust of Ume--wife of Kokichi Mikimoto

Ume blessed her husband with her support and worked faithfully by his side through his experimenting, disappointments and trial and errors of her husband's efforts.
This bronze bust commemorates this brave lady who believed in her husband's dreams and aided him in reaching them.
In the Pearl Island Memorial Hall is also a wonderful oil painting of a young Japanese couple, Mikimoto and wife Ume of Pearl Island, looking into an oyster shell. That memorializes the instant that Ume, herself, on July 11, 1893, during a routine check of the oysters, opened the oyster containing the first successfully cultured pearl. Although semi-spherical, it encouraged Mikimoto and wife Ume of Pearl Island to continue the search for the secret of perfectly round cultured pearl development.
On January 27, 1896 a patent for semi-spherical pearls was granted. The patent process took 15 months because no one had ever applied before for a patent concerning biological objects.
A victorious day! There was no turning back for the pursuit of develping cultured pearls for this young ambitious couple.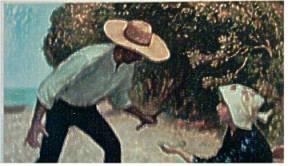 Mikimoto and wife Ume finding first cultured pearl
Seeing her hair combs and sewing needles makes one realize her humanity and kind devotion.
As misfortune would have it, Mikimoto's wife, Ume, of Pearl Island died when she was only 32 years old. Mikimoto never remarried, another testimony of their enduring love together. And his grief caused him to devote himself like never before to his goal of achieving perfectly round cultured pearls.
Eleven years later, in the spring, Kokichi Mikimoto fulfilled his greatest desire to cultivate round pearls.
More can be learned about Ume at Pearl Island in Toba,Japan. Of particular interest is a long letter from her to Kokichi Mikimoto and information about her childhood.
After reading about Mikimoto and wife Ume of Pearl Island, return here to main Mikimoto Pearl Island page.
Photos and Text copyrighted by https://www.karipearls.com