Mikimoto Pearl Co workers
Mikimoto pearl co workers...Well, maybe I wasn't one of them but this lifesize cardboard cutout in Mikimoto Memorial Hall at Mikimoto Pearl Island even makes me feel like I was there.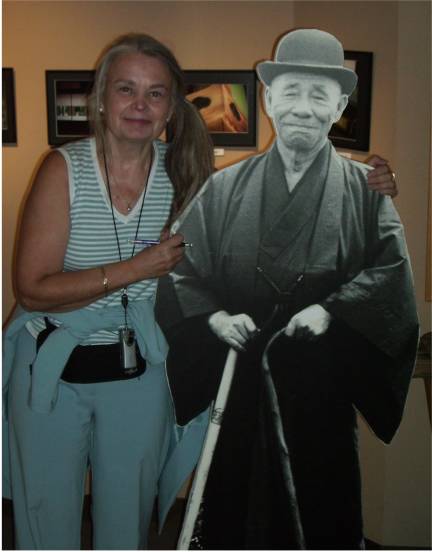 Kari and Mikimoto
This guy just seemed to be smiling at me the whole time I was viewing his artifacts and learning about him....as if he was urging me on to learn more about pearls.
Co-workers
Around the turn of the century there were many pearl specialists--technicians researching methods of culturing perfectly round pearls.
Mikimoto pearl co workers included Otokichi Kuwabare (1867-1949), a former dentist, who became a scientist because of Kokichi Mikimoto's invitation to help on the project.
Kuwabare developed the "wrapping method" for pearl cultivation and devised various tools for the insertion of the nucleus.
Tokichi Nishikawa (1874-1909) married one of Kokichi Mikimoto's daughters. As a student of D. Mitsukuri, he worked for the ministry of Agriculture and Commerce and invented the "piece method," which is widely used today for pearl cultivation.
In 1905, the dreaded red tide occured again in Ago Bay, devastating 850,000 oysters at Tatokuima Pearl Farm. Kokichi Mikimoto nevertheless opened every one of the dead oysters and found 5 round pearls among them.
I wondered, "Wow, are those the five original pearls?"
But no, these aren't the original five pearls.
The originals were cut open and examined to see if they were indeed ones cultivated by hand. And, yes, they were a part of the experiments, proving that perfectly round pearls could be cultivated.
Mikimoto said, "The destruction of the oysters is a disaster, but those five round pearls have taught me where to place the nucleus."
Mikimoto pearl co workers played an important role in the development of cultured pearls that we now enjoy.
Ebisu Statue
In 1929 Kokichi Mikimoto brought back to Ago Bay an Ebisu statue fro Kobe. Ebisu is a Japanese idol linked to the sea.
After sinking it in the bay on his pearl farm, he said, "This will toughen him for awhile."
Nineteen years later when it was brought up the statue was covered with pearl oysters.
It stands overlooking Ago bay.
Kokichi Mikimoto was fond of a crest made up of a circle with the Chinese character for pearl and had gargoyles made bearing these symbols.
Return here to Mikimoto Pearl Island main page after reading about Mikimoto pearl co workers.
Photos and Text copyrighted by www.karipearls.com