Mikimoto Pearl Island Museum
Can't make it over to Toba, Japan to see the Mikimoto Pearl Island Museum? Take a quick tour here with me.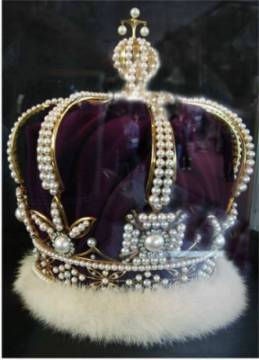 This Pearl Crown was made in 1978 to commemorate the 85th Anniversary of the discovery of the method of producing cultured pearls by the late Kokichi Mikimoto.
(I was thrilled that they allowed me to photograph these things.)
The design resembles the State crown of Queen Mary which was made for the consort of George V at his coronation in 1911.
Notice the 18 carat gold studded with 872 lustrous MIKIMOTO Cultured Pearls.
The Mikimoto Pearl Island Museum displays not only famous Mikimoto creations but ancient museum quality jewelry pieces.
Also included in the museum is a very comprehensive area about the cultured pearl process and production. Here, one can view many different oysters, stages of development, equipment, history and the cultivation process in photos.
The jewelry museum section is filled with valuable antique jewelry, such as a Roman necklace form the 1st century, and a gold necklace with pink pearls from the Bystantine Empire (4-5th century).
Ancient Persian pearls are represented along with diver's nose clip and pearls dating from the 19th century and earlier from India. One particularly striking piece is a carpet made of Indian pearls.
A creative piece uses conch pearls for buds on the enameled flowers on a brooch.
Another fancy piece was a JAPANESE (Mikimoto), 1908~1912 sash clip of 15K gold and platinum in a cherry-blossom pattern
From the 18th century, an English Parure set with a tiara, earrings, brooch and necklace shows the fine workmanship of tiny seed pearl jewelry fixed with fine thread to letter bases of mother of pearl.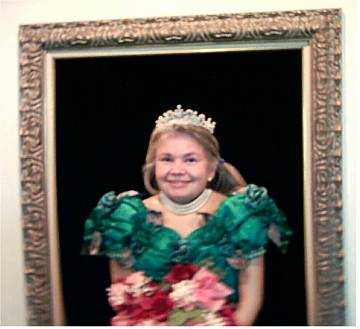 A person can be a "Pearl Queen," by standing behind this pearl necklace and dress and wearing a Mikimoto pearl crown.
My sons insisted on me trying this.
I was a little reluctant, but, oh well, it was fun for them to have a Queen Mother for a few minutes.
Plan on spending some time here if you have the opportunity to visit.
Marco Polo said, "In Japan they have also pearls in abundance, which are of a rare color, but fine, round and quite valuable."

View and read about (in 10 possible languages) many items in the antique jewelry display in this section of the Mikimoto Pearl Island Museum website.
Return here to main Mikimoto Pearl Island page.