Mikimoto Pearl Necklace
"Boss's String of Pearls"
This Mikimoto pearl necklace is affectionately called, "Taisho-ren" or "The Boss's String of Pearls".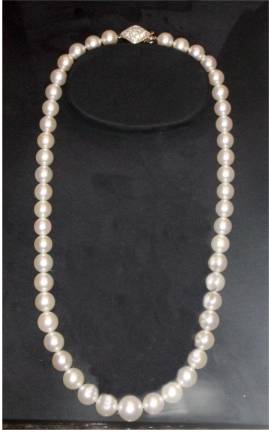 Boss's String of Pearls photo by Kari
Kokichi Mikimoto was fondly called, "Taisho ren" or "Big Boss," by his workers is his personal creation.
Mikimoto himself designed this graduated pearl necklace with pearls he hand picked over a 10 year period.
This treasured graduated pearl necklace consists of 49 large pearls. The center pearl is 14mm in diameter. It's on display at the Mikimoto Memorial Hall on Pearl Island in Toba, Japan.
Mikimoto Commission for the Imperial Household
A member of the Imperial family who appreciated Mikimoto's pearls attended the coronation of Edward the Seventh on behalf of the Japanese Emperor in 1902. He took pearls as gifts and presented them to the Count of St. James and to other aristocrats after having them mounted as jewelry in Paris.
After this Kokichi Mikimoto began concentrating on designing jewelry and began receiving orders from the Imperial House, such as for Emperor Showe's wedding.
In 1924 Mikimoto was granted title, "Purveyor to Imperial House" and his became the most prestigious jewelry shop in Japan.
World War II Compensation
From about 1948, navy officers of the allied forces began to visit Tatoku and Kokichi Mikimoto took the opportunity to play an active part in practicing private diplomacy.
"I would pay compensation for the lost war with my pearls," he boasted.
He also had innovative tourist ideas, such as a pearl lottery and a seaplane to attract tourists.
After reading about this Mikimoto pearl necklace, click here for main Mikimoto Pearl Island page.
Search here.
Photos and Text copyrighted by www.karipearls.com