Natural Paua Blister/Mabe Pearls
by Andrew
(Christchurch, New Zealand)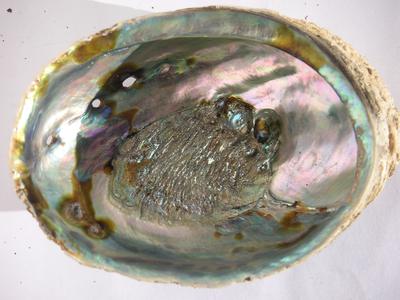 Natural Paua Blister/Mabe Pearls
Hello,

Unfortunately there's no wonderful story surrounding my finding this particular paua shell for I bought it with two other 'normal' ones from a Salvation Army Store. I knew what they were inside the shell and that they were rare so the only adventurous (HA!) thing I did was to hand over my $3.00 at the counter.

I can only assume that the live paua must have mistimed the waves and let go when it should have held on even more tightly and got smashed about somewhat before finding safe footing again. That's quite a deep gouge on the outer side which doesn't show through as badly on the inner side. Both blisters begin just on the edge of the gouge and there seems to be some near-pearls and sub-pearls formed too. I think that little dimple to the blisters right is the very start of another blister pearl.

The shell measures 11.3cm end-to-end including encrustation.

It's a pity that the camera can't compete with the Mark-1 eyeball when it comes to showing the blisters true depth and size.

Any opinions/comments/suggestions on whether it's worth getting valued and if so where to get that done in Christchurch, New Zealand or thereabouts would be greatly appreciated.

Thank you,

Andrew.