Have You Ever Found An
Abalone Pearl?
Abalone pearls with their iridescent colors are one of nature's treasures and I love hearing about finding them. Here, I invite you to upload a photo or video and tell your pearl story.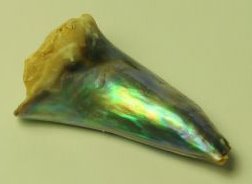 It must be a big thrill to find one of these. My parents bought a shell which grows these pearls on Catalina Island in California many years ago and as a child I never tired of gazing into its loveliness. The pearls from this mollusk are just as beautiful as the mother shell.
These pearls are especially interesting on account of their brilliant and unusual colors. Green predominates, but blue and yellow also occur. Although commonly very small, some of the well-formed ones exceed seventy-five grains in weight, and those of irregular shape may be very much larger. The ear-shells also produce many irregular pearly masses. Their beautiful greenish or blueish tints adapt them for artistic jeweled objects, such as the body of a fly or of a beetle.
The ear-shells or abalone (Haliotidae), univalves, attach themselves to the rocks by means of their large muscular disk-shaped foot, which acts like a sucker or an exhaust-cup. These, found on the coasts of California, Japan, New Zealand, and other localities in the Pacific, secrete pearly concretions, sometimes with fine luster.
These shells resemble in general outline the form of the human ear. Distinguishing characteristics are the flatly-spiral bowl-like shape, and the regular series of holes in the back near the distal margin, for the admission of water to the respiratory organs. The holes are on the left side and parallel with the columellar lip, and those nearest the apex close up as the shell increases in size. The shells are rough externally, but beautifully nacreous within. In variety and intensity of coloring, the nacre is superior to that of the pearl-oysters, but it is not so harmonious, and it does not form so thick and flat a layer.
Have You Found A Natural Abalone Pearl?
Do you have a great story about finding an Abalone pearl? Share it!

These brilliantly colored beauties charm the eyes like no other pearl. If you have been fortunate enough to find one of these natural iridescent pearls, I invite you to share a photo and your story here.
What Other Visitors Have Said
Click below to see contributions from other visitors to this page...

Go to main finding a pearl after abalone pearl.