Natural Pearl Necklace on 18K
Own a rare Persian Gulf natural pearl necklace. This one-of-a-Kari-kind necklace is sure to give you the confidence you seek.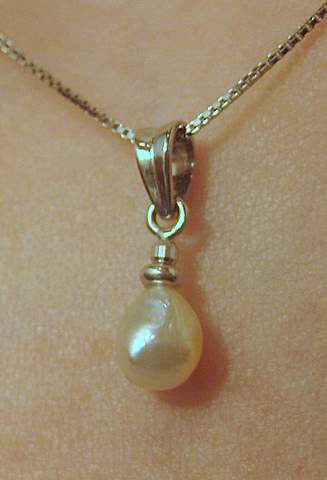 "Wild" Pearl Pendant
This pearl necklace contains a "wild" non-cultured pearl from the Persian Gulf which is also called the Arabian Gulf by many.
Persian Gulf pearls are frequently called "Oriental" pearls and are known for their luster. This pearl is over one carat and is set into 18K white gold. It is a gorgeous pendant. You can wear this with confidence knowing that you are wearing a rare pearl that was made totally by nature with no interference by man.
You may enjoy seeing how these pearls are drilled which is often still by a hand drill as opposed to an electric one.
Color of pearl: Cream
Shape of pearl: Drop
Carat weight of pearl: 1.14 carats
Dimensions of pearl: 5.18 x 5.25 x 6.27 mm
18K white gold pendant and chain
Certificate of Authenticity
Cost: $449.10 SOLD!
Visit my catalog after natural pearl necklace here.