History of Ohio River Pearls
Ohio River Pearls have been donned by people for centuries.
After the resources in northern New Jersey were depleted and the excitement had died out, little was heard of pearling in this country until 1878, when many were found in Little Miami River in southwestern Ohio.
The fishing was carried on at low water, and principally by boys, who would wade out in the water and feel for the mollusks with their feet, and then bob under and pick them up with their hands.
During 1878 about $25,000 worth of pearls were collected in the vicinity of Waynesville on that stream. Mr. Israel H. Harris, a banker of Waynesville, then began collecting these pearls; and by purchasing during several years nearly every interesting specimen found in the vicinity, he made his collection one of the largest and best known in the country. When sold in 1888, it contained several thousand pearls, mostly of small size, averaging in weight little more than one grain each.
A large portion of this collection of Ohio river pearls was exhibited in the American section of the Paris Exposition of 1889, and was awarded a gold medal.
Included in this exhibit was a series of ornaments in which the gems were arranged according to color, so that in one the Ohio river pearls were green, in another purplish brown, in another pink, in another waxy white, and in one a cream white.
It also contained a button-shaped pearl weighing thirty-eight grains and several pink ones almost translucent. A pink pearl of eight grains was admired by all who saw it; by reflected light this had the color and translucency of a drop of molten silver.
Many of the pink Ohio river pearls found in the Little Miami and its tributaries were of the most beautiful rose-petal pink; pearls of this peculiar color have never been found in any other waters.
The gathering of shells for manufacture also extended to many of the large tributaries of the Mississippi, especially the Arkansas, the White, the St. Francis, the Ohio and the Illinois rivers, and this industry added largely to the pearl yield in these waters.
From Ohio the industry of hunting for freshwater pearls extended westward and southward.
Indians Wore Ohio River Pearls
In the Mississippi Valley, the ancient population known as the mound-builders, have left in their mounds most remarkable quantities of pearls.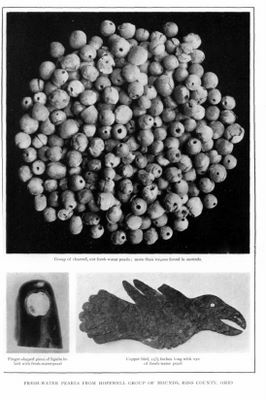 Ohio River Pearls
These treasures are not found wherever there are mounds, but only in certain regions. Of these, by far the most celebrated is that of the Scioto and Miami valleys in Ohio.
The valleys of the Miami and Scioto rivers and their tributaries contain many remarkable mounds and "earthworks," which have attracted much attention, and have been more or less explored at different times, with increasing care and thoroughness.
According to Squier and Davis, two quarts of pearls were originally deposited in one of these mounds. A number of Ohio river pearls or pearl beads from the Ohio mounds and which formerly belonged to the Squier and Davis collection, were, in 1908, in the Blackmore Museum at Salisbury, England. According to the director of the museum, these pearls, which originally formed five necklaces, have been much injured by the action of fire at the time the bodies of those interrred in the mounds were burned. Mr. Blackmore considered that the greater part of the pearl beads are of mother-of-pearl cut from some large shell, made into a round shape and perforated, but, after very careful examination, he was of the opinion that about ten may be classed as natural pearls.
Their present color is a dull, leaden gray, rather lighter than the "black pearl" of commerce. The size of these pearls or beads varies from four millimeters to twenty millimeters in diameter. One of the necklaces consists of thirty-three beads well graduated, but of a dead white color from the action of the earth.
Further exploration of Ohio Indian mounds, especially from the "Porter" and "Hopewell" groups in Ross County, has uncovered many Ohio river pearls as well as quantities of interesting and remarkable objects. The pearls were extremely abundant, and were at first supposed to have been brought from the coast, and may have been the pearls of the common clam and the common oyster, the pearls being found in opening the mollusks for food; but after the development of pearl hunting in the western rivers, where the freshwater mussels (Unios) were so abundant and produced such beautiful pearls, showed that these treasures were undoubtedly gathered, partly, if not wholly, in the region where the mounds exist.
The enormous numbers of Ohio river pearls found are, indeed, no source of surprise, as such quantities of pearls were obtained around the turn of the twentieth century, from these same regions.
Ohio River Pearls in Indian Mounds
Beads made from Unio pearls were very abundant everywhere in the Harness Mound, as also beads of shell. The Ohio river pearls were found in such position as to show that they were strung and worn around the neck or wrist. One burial had some 2,100 pearl beads, all rather small, and some of them perfectly round. Several hundred were obtained, however, that ranged from one quarter to one half an inch in diameter.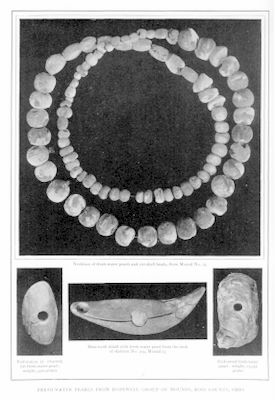 Ohio River Pearls from Indian Mounds
A number of these are shown of natural size. The larger pearls, instead of being bored through for beads, are frequently somewhat flattened by grinding, and then pierced with two holes so as to attach them to a fabric. Very large ones were sometimes set in copper, a style of work never observed before.
Large and select Ohio river pearls were flattened upon one side by grinding, and then placed upon a circular disk of copper a little larger than the pearl. The edges were then turned up around the pearl, holding it in place.
Not only were Ohio pearls set in this way, but various pieces of shell cut in a circular form.
More curious still is the discovery of imitation pearls, made of clay, and apparently modeled form real ones as they reproduce all the irregularities of form of the true pearls. They could easily have been made more nearly spherical, as the beads cut from shell are so regular as to look as though made by machinery. These somewhat irregular clay imitation, found with the genuine pearls, were first coated with a pulverent mica and then burned so as to preserve a pearly appearance.
Special thanks to Kunz and Stevenson in their 1908 book for this information.
See a 2,000 year old pearl necklace and bracelet found in an Iowa Indian mound.
Learn about more natural pearls after Ohio river pearls.