Pale Pink Pearls
These pale pink pearls of unique rosebud pearls reflects both light and your good taste.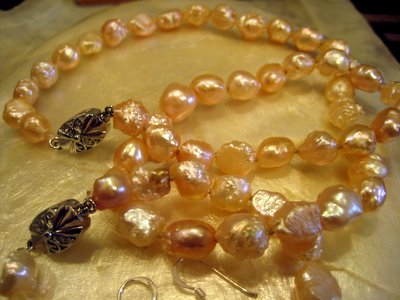 Pale Pink Rosebud Pearls
Looking for a lovely gift for your sweetheart or yourself?
These unique pearls are sure to catch the eyes of your admirers, boost your self confidence and just make your day go a little smoother and happier!
Pale Pink Pearls Closeup
Pearls are like that. They just make you "feel good"....try it sometime, risk free. I'll gladly refund your money if this pearl set isn't everything you'd hoped it would be.
Pearl Set Clasps
You get a necklace, bracelet and matching earrings here and all in a lovely colorful silky gift bag ready for gift giving and useful for storage of the pearls.
I have these in both white and pink. And don't forget to wear your pearls not just for an evening on the town, but everyday, even with those comfy bluejeans. Why not feel like a princess all day, every day?
Pink Pearls Set
Pearl Type: Cultured Freshwater - all nacre
Shape: Rosebud (covered with nice little bumps)/flat back
Luster: Good
Color: White only (sorry, no pink left)
Necklace length: 20"
Bracelet length: 8"
Earrings: Pieced Dangle
Clasp metal: Steel

Note: This style is no longer available.
Go to main pink pearls after pale pink pearls.
Cultured freshwater pearls have become very abundant and affordable. They are a great way to get started on filling your jewelry box with pearls. Never before in the history of the world have pearls been so accessible to everyone. There is something for every budget.
After enjoying cultured pearls for awhile, you might want to upgrade and buy a few rare and fine natural pearls. These pearls are not common. They are very special and limited quantity unlike cultured pearls. I know a man who said he can "tell" just by looking at the glow in a woman's eyes whether she is wearing cultured or natural pearls! Well, I'm not sure about that ability, maybe he has it, but I do know that wearing natural pearls is an amazing experience!
A large variety of pink cultured pearls are available at Ebay. Some of these are obviously dyed and not a natural color but there are several size and shape options. See below: