Natural Colored Peach Freshwater Pearl Necklace
You'll love this Peach Freshwater Pearl Necklace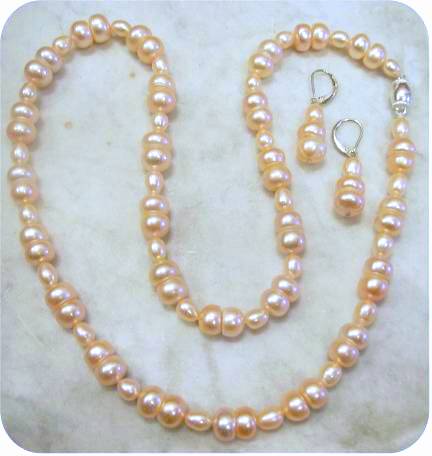 Naturally colored pearls...my favorites.
I've seen freshwater mussels opened before my eyes and these peach colored pearls are right there in all their lovely color.
See a freshly opened mussel here...then come back.
Big pearls are also a favorite of mine and here I've combined big 8.5-9mm button shaped pearls with 6mm oval pearls.
Together they make an interesting contrast for this fun necklace and earring set.
Matching dangle earrings make perfect companions.
The magnet clasp adds to the ease for wearing and enjoying this peach freshwater pearl necklace.
Sorry, this style is no longer available.
I love naturally colored pearls and it was a joy to me to see this color of pearl being harvested directly from a newly gathered mussel. Up to 50 freshwater pearls can be cultured in a single shell. It is common for several to stick to the shell. Those that can be easily knocked off are but others are left to themselves on the shell. Some of these blister pearls end up on jewelry pendants but sad to say most die a quiet death in big heaps along the roadsides.
Go to Main Pink Pearl Page after Peach Freshwater Pearl Necklace.
Cultured freshwater pearls are a great way to get started wearing pearls. They are gorgeous, affordable and plentiful so enjoy those pearls!
Pearl farms around the world are perfecting the technique of culturing pearls, both freshwater and saltwater. What a great time to be alive. A time when all walks of life can enjoy the luxury of wearing a large variety of gorgeous cultured, affordable pearls.
After time, however, you might want to refine your tastes somewhat and graduate to wearing a few fine natural pearls. These are rare, very limited in quantity and will hold their value unlike cultured freshwater pearls.