Want a smashing 4 strand necklace of peach freshwater pearls?
This is it! The delicate natural color of these peach freshwater pearls is a delight to wear.
At 21" this elegant necklace will look smashing with formal wear as well as business clothing.
I often mention wearing pearls with blue jeans...this one might be a bit much for blue jeans...even I must admit. It's not quite that casual...but, hey, why not?
If you prefer smaller pearls PLUS impact. Then this necklace does that. Delicate, yet powerful!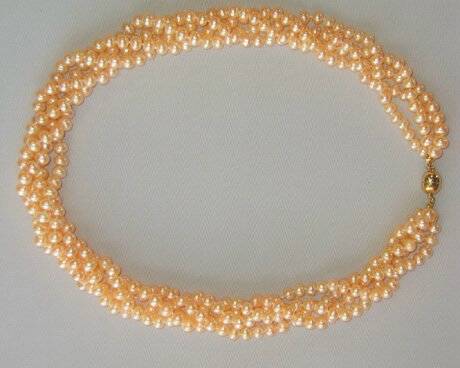 Untwist this necklace for still another style or wrap loosely for a third look.
Details

Length: 21" Matinee Length
Size: 5-6mm A nice size for 4 strands
Color: Pink/Peach Natural color (lighter than photo)
Shape: Slightly baroque Must look closely to notice
Luster: Medium Plenty of shine
Surface: Clear No blemishes
Knotted between each pearl
Clasp: Nifty magnetic clasp Easy to use
Price: No longer available
Free shipping and free silky gift bag.
These soft colored peach pearls would enhance your beauty...that's what pearls do.
Go to main Pink Pearls after Peach Freshwater Pearls