Pearl Bridal Jewelry "Bride's Delight"
I've been wanting to make this swoopy (is that a word?), feminine necklace for some time and finally got around to creating it for you....just in time for your wedding, right?
I love this delicate look and I designed it to drape in a lovely way on the sides and back as well as the front.
For the back, I used tiny seed pearls close to the clasp so the pearls would be taken back to a smaller point instead of using a four strand clasp. I've brought the strands back into a two strand closing, making the back view to flow upward.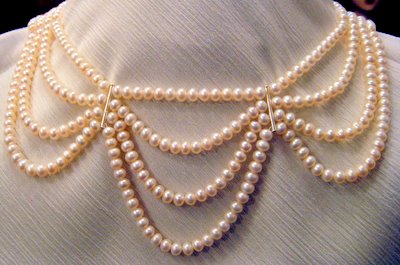 Pearl Bridal Jewelry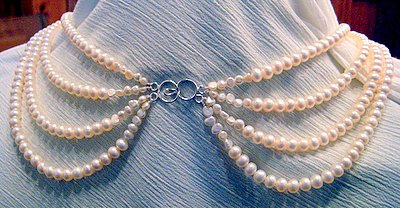 Bridal Jewelry Back View
Bridal Pearl Jewelry Side View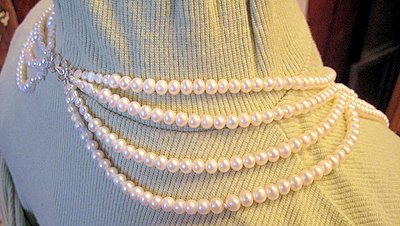 Pearl Bridal Back Side View
Of course, this will look much better on you with your elegant wedding dress.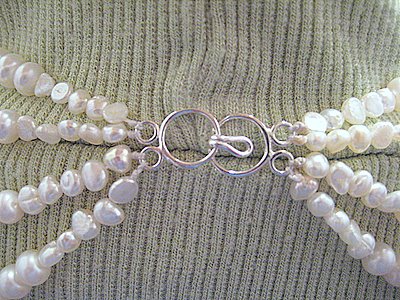 Pearl Bridal Jewelry Clasp
Purchase this necklace risk free...try it on with your wedding dress and if it isn't everything you dreamed, I will gladly refund your payment. I want you to be totally happy, especially on such an important day as your wedding!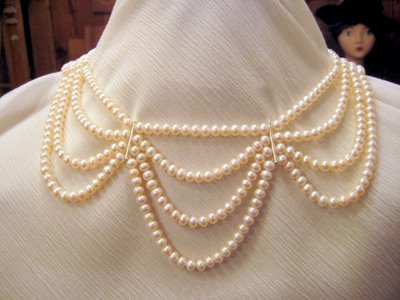 Pearl Bridal Necklace
Of course, this necklace would also look super on bridesmaids or with your prom dress or for that special ball you're planning to attend.
Nitty Gritty Details:
Pearl Type: Cultured Freshwater
Color: White
Shape: Button & Seed
Size: Seed:4mm Button:5.5mm
Luster: Good
Surface: Good
Matching: Good
Length: 19" Shortest Strand (Contact me if you need a different size)
Knotting: Knotted between each Button Pearl
Clasp: Sterling Silver
Sorry, this style is no longer available.
Go to main white pearl page after pearl bridal jewelry.