Pearls in Hungary
This information about pearls in Hungary is from the Kunz & Stevenson pearl book first published in 1908. Consult local laws before attempting pearling in Hungary.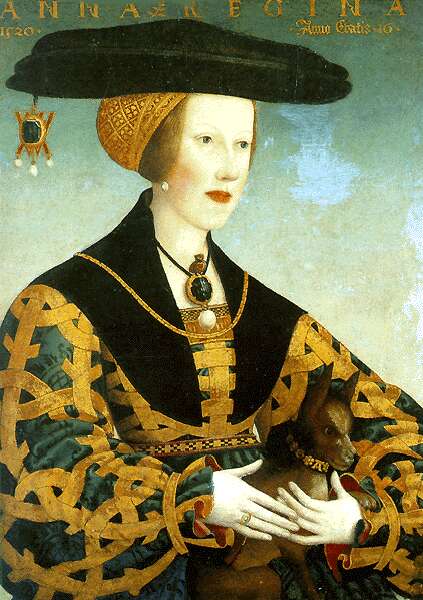 Anna Queen of Hungary
In Hungary from time immemorial, the native pearls have been popular with the Magyar women, and very many yet exist in the old Hungarian jewelry worn with the national costume. A century ago there was scarcely a family of local prominence which did not possess a necklace of pearls, although these were frequently not of choice quality or of considerable size. With a falling off in the output of the native streams there has been a great increase in the quantity of choice oriental pearls purchased by the wealthy families, and some of the most costly necklaces in Europe are now owned here.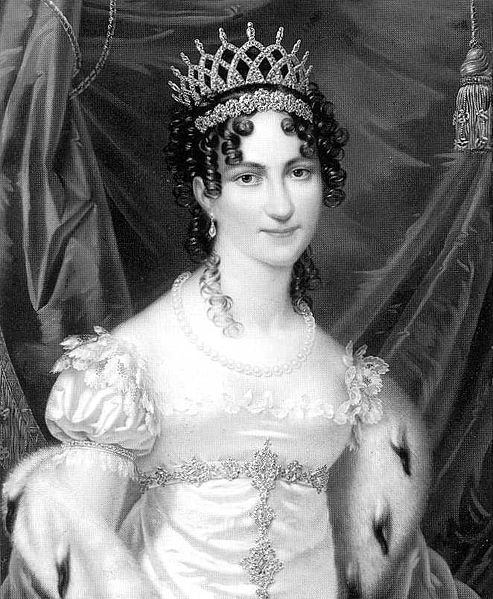 Caroline Queen of Hungary
A very rich collection of ecclesiastical ornaments is contained in the treasury of the cathedral of Gan in Hungary. One of the most interesting objects is a reliquary in the form of a Latin cross, which is of great historical and artistic value. An inventory made after 1528 describes it briefly: "crux aurea continens lignum vitae" (a gold cross containing the wood of life). Although this reliquary containing pearls in Hungary probably belongs to the end of the twelfth century, the inventory of 1659 describes it as a gift of King Stephen, and proceeds to say that the kings of Hungary took their coronation oath upon it This custom has been preserved to the present day, and Emperor Francis Joseph, on the occasion of his coronation as King of Hungary, June 8, 1867, swore, upon this cross, to uphold the constitution and the laws of the land. The cross is decorated with plates of gold in filigree design, and has four en cabochon cut sapphires and eighteen oriental pearls.
Anna of Tyrol
The greatest treasure of the collection of pearls in Hungary is known as the cross of Corvinus, King of Hungary, and is decorated witha great number of pearls. It is a remarkable example of early Italian Renaissance art. The entire structure is about twenty-eight inches high; the pedestal is triangular and ornamental with pearls adn precious stones; three sphinxes bearing shields with the arms of Corvinus support a disk from which springs a triangular support sloping outward; on the three sides are mythological figures. Upon this base rest the chapel, a light Gothic structure with the figure of the Savious bound to a pillar in the center, and the busts of three prophets in the niches outside. Above all is the crucifix, on each side of which are figures of the Blessed Virgin and of St. John. Around the base and about each division of this elaborate design is a row of pearls; the Gothic chapel is surmounted by a close-set row, and each of its six pinnacles terminates in an oval pearl. The cross itself has fifteen large pearls in Hungary disposed in twos and threes, and many smaller ones. There are at least two hundred pearls in Hungary on the whole structure.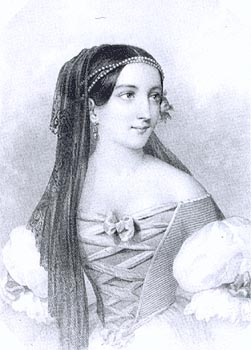 Isabella Widow Queen of Hungary
Another cross, with the arms of the primate, George Szolepchenyi, and bearing the date of 1667, is of pure design and richly decorated with pearls in Hungary and precious stones. It is quite possible that this cross, which seems to belong to a better period, was brought by the archbishop, who afterward added his arms. There are thirteen oriental pearls, three at the top, three at the end of each of th arms, and four at the intersection. This cross was used as an "instrumentum pacis," for the kiss of peace, on solemn occasions such as coronations.
We may also note the pendant with the image of the Virgin Mary as patroness of Hungary, which is of gold enamel and has two pendant pearls and a sapphire, and likewise the pectoral cross of the primate, Emerich Losy; this is of gold, decorated with green, blue, and black enamel, and has three pendant pear-shaped pearls, one quite large, as well as thirty-four smaller round pearls.
Some of the finest pearls in Hungary are:
A necklace of three large rows, owned by the Archduke Joseph and valued at one million francs.
A still larger necklace in the possession of Prince Nicholas Esterhazy; this, however, is an entailed heriloom, and may not be parted with without the king's permission.
A very fine necklace of five rows, also and entailed heirloom, owned by Count Maurice Esterhazy.
Zita Queen of Hungary
A large necklace, possessed by Countess Alois Karoly, wife of the late ambassador in London. This is another entailed heirloom; its value is at least a million and a half francs.
An unusally large necklace of four rows, such as one rarely sees, owned by the Countess Wenkheim. The pearls are white, and have a good shape, but not much brilliancy. The average size of these pearls is approximately twenty-four grains.
An equally large necklace consisting of a singe row, averaging twenty-six grains, in the possession of Countess Louis Batthyani.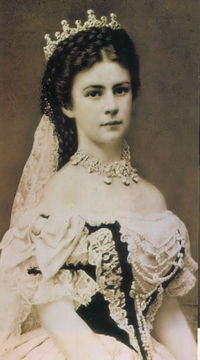 Elizabeth Queen of Hungary
There are a great many necklaces of fine quality, worth from 300,000 francs down to 100,000 francs, belonging to families such as those of Count Joseph Hunyadi, Countess Festetics-Hamilton, Count Landor Nako, Peer Leo Lanczi, Count Albert Apponyi, Mr. Eugene Dreher, Madame Emma de Bachrach, etc. Indeed, almost every wealthy family of the better class owns a necklace worth up to 100,000 francs and over.
At the auction sale of the collection of the late Bishop Bubics of Hungary, among other objects, a very handsome saber pouch was offered, of the sytle worn by the Hungarian hussars. It was of green silk and richly embroidered with hundreds of pearls in Hungary of varying sizes. After a spirited competition this pouch was sold to Prince Esterhazy for 13,500 crowns ($2700). Some time after the sale a letter from the late bishop was found, containing the statement that he had borrowed the ornament from the jewel-room of the Princess Esterhazy. Naturally, Prince Esterhazy was not called upon to pay the amount of his bid. It is a gratificaiton to know that at least one of the remarkable Magyar jewelred ornaments has escaped the cupidity of enterprising jewelers who have broken up so many of these ornaments for the gems which they contain.
Photos of a Hungarian Jewelry museum near Hungary.
Find out where else natural pearls are found after learning about pearls in Hungary.
See photos of Hungarian pearl jewelry here.
See photos of the official Hungarian crown.