Photographs of Pearl Necklaces on a Mushroom
Photographs of pearl necklaces...enchanting.
John Anderson, Photographer
My son John took these photos after he brought in this lovely mushroom one day. It was a great year for mushrooms around our farm and a friend found the largest puff ball mushroom I've ever seen in my life. It was about 10 inches in diameter.
Most of these photographs of pearls were taken on our oak Queen Anne dining room table. So much of our life "happens" at this table, home schooling, gather point for stuff and people, formal dinners, pearl sales, and lamb sales. I've made several large tablecloths for variety, but my favorite look is the yellow oak itself even though it's showing signs of wear from our large busy family.
Wearing Pearls Builds Confidence
Black freshwater pearls are stunning. These are dyed, but freshwater pearls do come natually black also. The white freshwater pearls add glamour to any wardrobe and self-esteem to one's life.
Try it. Wear pearls. Watch your confidence rise to new levels.
Yesterday, I heard from one of my favorite customers, "Purchasing your products has helped my confidence and body image."
Wow...I love that kind of testimony. And I agree totally.
Wearing pearls improves life.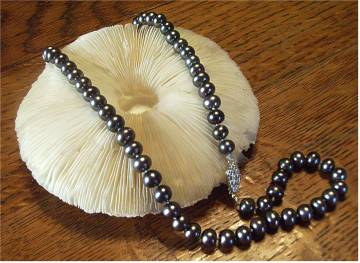 Photo of Pearls
Photo of Pearls
Photo of Pearls
Photo of Pearls
Photo of Pearls
Photo of Pearls
Photo of Pearls
Photo of Pearls
Photo of Pearls
Go to main photographs of pearl necklaces after viewing mushrooms and pearls.