Pink Freshwater Pearl Necklace -- A Winner!
I you can buy only one pearl necklace...I recommend this pink freshwater pearl necklace.
I mean it. If you feel you can only afford to own only one pearl necklace, this is a
super choice
.
Yes, white pearls are classic, but pink....ahhhh, now they're special!
I've made them up in a variety of lengths for you to choose from.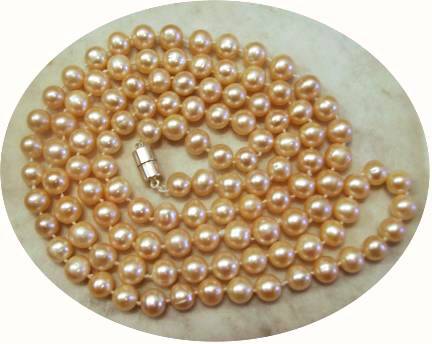 Princess length = 18"
Matinee length = 22"
Matinee length = 26"
Rope length = 42"

Longer necklaces are becoming popular once again...just like in the 30's when you see all those amazing pearl ropes.
These pearl have slight imperfections in them, but believe me, your friends are not going to be staring at the flaws.

Many ladies I know even prefer a few minor "beauty marks" on their pearls, because it shows their authenticity.

Instead your friends will be dazzled by these gorgeous, large 8-9mm very round pink pearls.

8-9mm is a very nice size for pearls.

Pink pearls set you apart from the crowd and still go with almost everything the way white pearls do.

These are exceptionally beautiful round pearls with a reasonable price tag too.

The necklaces with come with a sterling silver filigree clasp.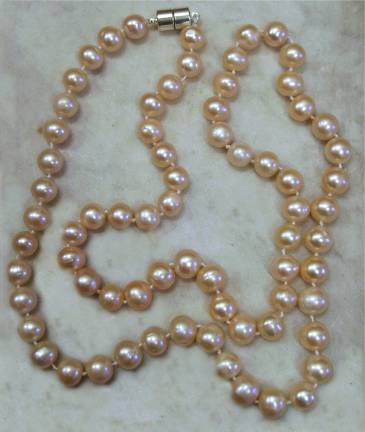 If you owned a pink freshwater pearl necklace off this page, you'd find yourself wearing it often..."I guarantee it."
If you don't find yourself wearing it often, please return it to me for a full refund.
Pearls are meant to be enjoyed...and they're
not just for Sunday
anymore.
Blue jeans, dress pants, office suits, or party evening wear...all can handle pearls and make you feel like a princess.
My mother-in-law says she feels special whenever she wears pearls.
Sorry, these styles are no longer available.
Go to Main Pink Pearl Page after Pink Freshwater Pearl Necklace.