Pearl Carpet of Baroda at Qatar Exhibit
The second temporary exhibition ? Pearls ? at the Museum of Islamic Art (MIA), opening to public on January 30, will showcase some of the rarest pearls including the Pearl Carpet of Baroda.


The carpet had hit headlines when it went under the hammer in Doha last year becoming the most expensive carpet in the world at a price of $5.5m.
When an anonymous buyer bought the carper at the Qatar auction in March 2009, world had thought the carpet had disappeared forever. In its 145 years of existence, only twice has been the carpet put for public viewing.
More about Baroda pearl carpet here.
Join in and write your own page! It's easy to do. How? Simply click here to return to Pearl News.
"Land of Pearls" Premieres in Qatar
"Land of Pearls" to Premiere in Qatar

The fest also will proudly screen, debut director Mohammed Al-Ibrahim's short film "Land of Pearls" as one of its 40 premieres.

Al-Ibrahim, 25, chose for his Doha Film Institute workshop project to tell the story of the disappearing Qatari tradition of pearl diving, through a father and son flashback to the 1940s, before independence from Britain in 1971.

"I'm glad people are beginning to use our stories and trying to create social change through them," said Scandar Copti, DFI education director and DTFF programmer.


Pearl Statue, Doha, Qatar

Photographic Print
Buy at AllPosters.com
Copti, a Palestinian who left a career in banking to make films and teach young Arab filmmakers, said Al-Ibrahim showed promise and now works with him in DFI education programs, where the youngest student is 11 and the eldest in his late 40s.
In Qatar, where most exhibitors target young moviegoers with comedy, horror and films about social issues, such as addiction to technology, Copti said, the DFI brings variety to young minds.
More about "Land of Pearls" Premieres in Qatar
Join in and write your own page! It's easy to do. How? Simply click here to return to Pearl News.
Traditional Pearl Diving Competition in Qatar
The first-ever Traditional Pearl Diving Competition is set to boost Qatar's tourism sector with a line-up of spectacular events which would appeal to all culture and folk arts enthusiasts, organizers of the unique heritage event said.

"We are certain that the first edition of this unique competition will attract both local and resident community as well as visitors to Qatar. The spectacular arrival ceremony, Al Qafal, taking place at the Cultural Village seafront on June 3, will revive the traditional rituals of the past days through impressive folkloric performances," said Hamad Mohammed Al Tamimi, General Manager of Qatar Marine Festival Organising Committee, organizer of the event. He said the next edition of the event will offer visitors daily boat trips to the diving locations, where they can personally come close to the lives of divers on-board the ships.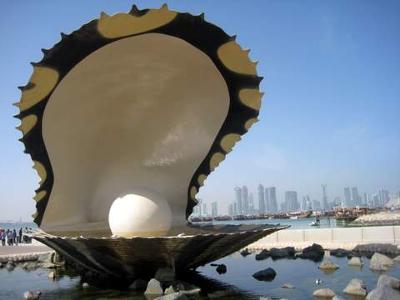 Qatar Pearl Monument photo by Kari
"These unique interactive trips combined with the spectacular traditional performances of Al Dasha and Al Qafal ceremonies will certainly enhance the appeal of Qatar as an attractive tourist destination not only regionally, but internationally," he said.
Al Tamimi emphasised the importance of public participation as an important factor for the success of the event, indicating that the in addition to Al Dasha, Al Qafal and closing ceremonies being open to public, the organisers have approached Qatari schools, universities and some companies to participate in interactive boat trips to the diving location and witness live the oyster collection and opening process.
"In the future, we aim at making the Traditional Pearl Diving Competition one of the most prominent programmes supporting local tourism. In fact we hope it will be one of the must-attend events in the Gulf region," he said.
Entire article about traditional pearl diving competition in Qatar
Click here to read or post comments
Join in and write your own page! It's easy to do. How? Simply click here to return to Pearl News.
Qatar's Pearl Exhibiton Highlights
Qatar's Pearl Exhibition Highlights....


An important section of the exhibition is dedicated to Arabian Gulf pearls, with the public presentation of Al Fardan and Al Majed collections. Among them is also Qatar Museums Authority's rare pearl collection which is a unique assortment that comprises of the natural pearls of more than ten different mollusks.

The exhibited collection include 'Cristaux Perlés' necklace composed of 281 diamonds and 18 South Sea pearls, set in 18-carat white gold; 'Elements Célestes 01' necklace in 18-carat white gold, with and a cultured pearl; and a pearl gown.

Another legendary item is a necklace given to Marilyn Monroe as a gift from her second husband Joe DiMaggio, the base ball legend. The 16-inch cultured Akoyal pearl necklace consists of a single strand of 44 Mikimoto pearls from Japan.

From China is imperial robe with mysterious pattern consisting of eight dragons chasing a pearl and a dragon coiled around a pearl in the centre.

The Pearl carpet of Baroda is another highlight with 1.5 m pearls sewn onto a deerskin represent the fishing of at least 750 million oysters in the Gulf.

Showing the demand for Arab pearls during the 19th century is the head-dress of a member of the Rana family in Nepal. The hard leather cap is covered with pearls and is bordered with emerald drops.

Another attraction is Art Deco brooch belonging to Queen Mary of England. It was made in the 1930s for Queen Mary, the consort of King George V.

More about Qatar's pearl exhibition.
Join in and write your own page! It's easy to do. How? Simply click here to return to Pearl News.
Pearl Diving Contest
Pearl diving contest finished in Qatar

The 2010 Traditional Pearl Diving Competition came to a successful conclusion yesterday as the best performing delegations were recognized in an impressive programme held at the Villaggio Mall.

One of the highlights of the Qatar Marine Festival, the three-day competition started with naham (pearl ship singers) from all participating dhows setting the mood for the pearl divers before they embarked on days-long challenge of looking for the most number and best pearls on the rich al heerat (pearl diving locations) of Qatari waters.

The event also revealed the richness of Qatar's al heerat and abundant marine resources as nearly 100,000 oysters were collected by all the dhows just on the second day.

The divers chanted traditional sea songs as they put their sails down after docking their dhows and a group of men and women donning traditional costumes staged communal performance to welcome the safe arrival of the divers after a successful trip.

The Gulf is one of the best sources of high quality pearls but the industry has been left on the wayside with the rise of the oil industry. Qatar's pearl diving competition is one such initiative to revive the culture of pearl diving.

More about pearl diving contest in Qatar

Diving Contest Photos
Join in and write your own page! It's easy to do. How? Simply click here to return to Pearl News.
Paris Gallery to Buy Qatar Diving Competition Pearls
Paris Gallery to Buy Qatar Diving Competition Pearls

The Paris Gallery yesterday announced it would purchase the pearls collected at the 2010 GCC Traditional Pearl Diving Competition.

"Our offer to purchase the pearls takes root from the importance Paris Gallery Enterprise attaches to the preservation of the marine heritage of the Gulf," said Salman Abdul Raheem, General Manager of Paris Gallery.

Paris Gallery Enterprise approached the Qatar Marine Festival Organising Committee (QMFOC), organiser of the Competition, with an offer to purchase the pearl crop expected to be collected by the teams participating in this contest. This offer is made as a gesture of support for organisers' efforts to revive and preserve maritime heritage and traditions of the Arabian Gulf.

Abdul Raheem spoke about the importance of this initiative to the company stressing that it is vital to educate young generations about Qatar's heritage.

"It makes us proud that Qatar takes an initiative in organising such a grand event that pays tribute to the maritime heritage of the Arabian Gulf," he said, adding: "I personally, was very excited to learn about the 2010 GCC Traditional Pearl Diving Contest and I now impatiently wait for the commencement of the event and the treasures that will be revealed upon its completion."

More about Paris Gallery to Buy Qatar Diving Competition Pearls
Join in and write your own page! It's easy to do. How? Simply click here to return to Pearl News.
Pearl Diver Qatar
Pearl Diver Qatar

Qatar Academy hosted a pearl diving expert to share experience with students.

Well-known pearl diver Saad Ismail (pictured) was invited to speak to Grade 1 students taking up cultural studies. This was organised under Qatar Academy's Primary Years Programme's integral part to recognise Qatar's rich culture and heritage.


Twin Towers at Eastern End of the Corniche, Doha, Ad Dawhah, Qatar

Photographic Print
Buy at AllPosters.com
Ismail, shared information about native sea creatures here in Qatar which delighted the young students and resulted in many questions that the pearl diving expert answered in detail.
He then introduced pearl diving — the tools used in the trade and how things have changed now compared to when he was just starting.
The old-fashioned tools included in his demonstration were the weight and a strong rope which is lowered into the sea to determine if oysters with pearls lay at the bottom, a heavy stone to make their descent underwater faster and a net placed around their neck to hold all the oysters they would catch for every two-minute dive.
The presentation provided a wealth of information to the students.
"I learnt some sea animals in Qatar can be dangerous," said Alia Kanabar, Grade 1 student.
More about Pearl Diver Qatar
Join in and write your own page! It's easy to do. How? Simply click here to return to Pearl News.