Gorgeous Seed Pearls
Tiny seed pearls add up to great beauty when combined with 18K gold and lovely designs. These small pearls occur naturally in the Persian Gulf and are used liberally in gorgeous jewelry.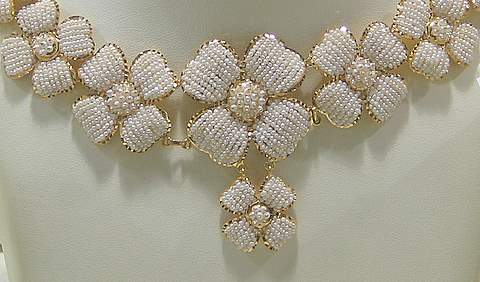 Natural Pearl Flowers
The gold souq in Dubai is tiny pearl heaven. If anyone loves jewelry, they would certainly enjoy this gold souq where the jewelry designs range from extravagant to simply elegant.
I saw a pearl necklace there that literally "took my breathe away"...an experience I've never had before. I wondered if it was a display or really for a person. Yes, it was for a wedding and took up an entire window. But, this page is about tiny pearls....so I'd better stick to my topic, right?
Natural Pearl Bracelet
I somehow was under the impression that tiny pearl jewelry only existed in museums and antique shops, but that is not the situation. Tiny pearl jewelry is also being made today. Dubai is a great place to view or buy it. Most of these small pearls are natural and come from the Persian Gulf.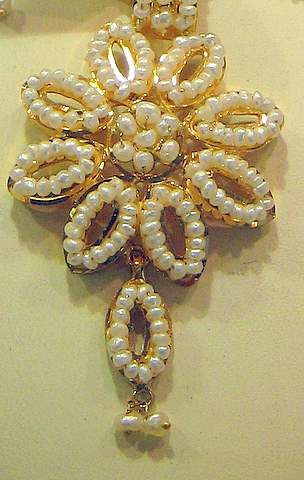 Natural Pearl Daisy
You may enjoy my page about drilling seed pearls which is still most often done with a hand drill rather than electric drills. The very tiniest of pearls can be drilled this way. And I think using an electric drill for such tiny pearls would be dangerous for the driller.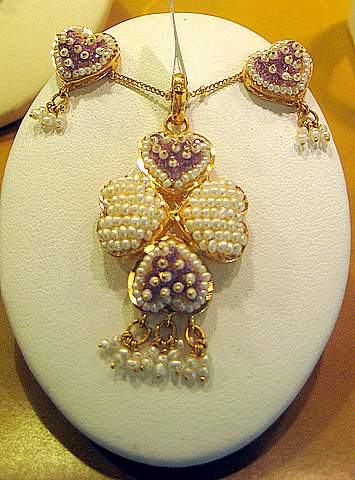 Persian Gulf Pearl Jewelry
At one shop the owner showed me a strand of seed pearls that were so incredibly tiny that the strand literally looked like a spider's web. The were almost hard to even see with the naked eye. My heroes are the people who drill these minute pearls. My hat is off to them for their patience and perseverance!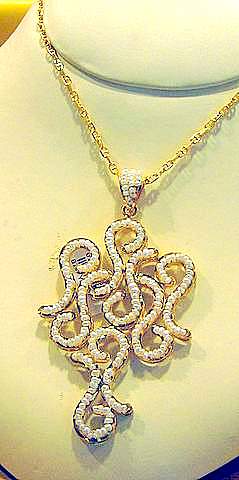 Persian Gulf Pearl Necklace
You don't only see these seed pearl jewelry pieces at the gold souq in Dubai but in almost every jewelry store and they can be located almost anywhere and often in malls or food shopping centers like LuLu's, which means "pearl" by the way, in Arabic.
Natural Pearl Pendant
It was funny, because when I was in Qatar the new taxi cab driver, who wasn't too familiar yet with Doha, took me to LuLu's shopping center because I said I wanted to look at pearls and used the word, "Lulu"....well, all wasn't lost as I met a lovely mother and daughter there while waiting for it to open. But there were the ones who informed me I was at the wrong place.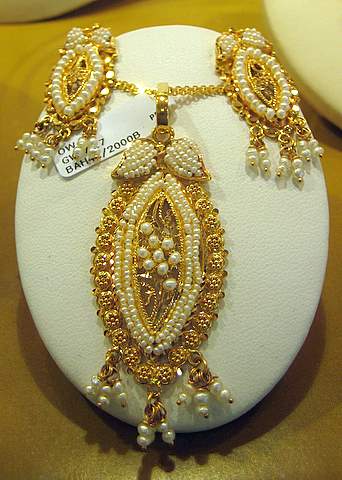 Natural Pearl Set
I hope you have enjoyed looking at the seed pearls. It would take very good eyesight to create these lovely pieces and also much patience...but the results are very worth it, don't you think so too?
You might also enjoy my adventure of riding the Abra water taxi boats to cross the creek in Dubai.
Read about historic seed pearls here.
Natural Persian Gulf pearl jewelry for sale here.